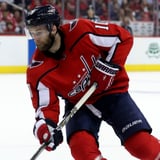 That's one special #StanleyCup Playoff moment. ❤️ pic.twitter.com/Jr9RGqFPGh

– NHL (@NHL) April 16, 2018
When Washington Capitals player Brett Connolly spotted a little girl standing in the front row before a hockey game, he was determined to hand her a puck. The Capitals were warming up ahead of their game against the Columbus Blue Jackets on Sunday when the girl grabbed Connolly's attention.
In a clip that's gone viral, he's seen repeatedly trying to toss her a hockey puck over the glass, but puck after puck goes to the boys beside her. The girl's disappointed expression says it all, but her face brightens when he throws a third one and makes sure the puck finds its way to her.
Fans on Twitter applauded Connolly for his persistence, and for me, the moment hit close to home. I grew up going to Chicago Blackhawks games with my dad, who instilled in me at a young age a passion for hockey and the knowledge of as many player stats as I was willing to hear. When I was about seven, he brought me to a game and led me toward the ice to watch the players warm up. As I stood there, wide-eyed and thrilled, wearing a red jersey that fell to my knees, I caught the eye of Jeremy Roenick. Like Connolly, he paused his warmup, skated over, and tapped the glass to say hi before tossing me a puck. I was so happy I thought I'd burst, and my dad and I cheered and laughed about it all night. The puck sits on a bookshelf in my office.
Those moments matter, particularly to young girls who love sports and don't always feel like they're part of the conversation. Cheers to Connolly for making a little girl's day, and possibly making an impact even larger than he realized.