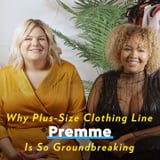 While 67% of American women could be considered plus-size, 77% say it's hard to find properly fitting clothes. That's where style bloggers Nicolette Mason and GabiFresh's Gabi Gregg come in. They've created Premme, a collection of "fashion forward, stylish statement pieces for women above size 12."
POPSUGAR had a chance to sit down with the fashionistas to talk about why creating Premme was so important for them, the pieces they're most excited about for their Fall collection, Gabi's new plus-size lingerie line, and so much more.
Check out the full video above!