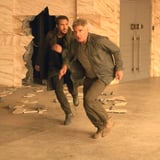 The following contains spoilers for Blade Runner 2049.
As expected, Blade Runner 2049's brooding and dystopian adventure ends with little resolution. Though several storylines are neatly resolved by the end of the film, the final moments introduce even more questions. Namely, does Officer K die on those steps? Is he merely taking a much-needed nap? And what will happen now that Rick Deckard has finally met his long-lost daughter?
Despite those remaining questions, we'd take this ending over the alternative one any day. In a recent interview with the Los Angeles Times, one of the sequel's screenwriters, Hampton Fancher, shared his darker ending. When asked if he envisioned additional films in the franchise, Fancher said, "Well, I didn't before, but I do now," adding, "In my script, Deckard died at the end, but you have him live."
Though the screenwriter didn't divulge any details about the nature of Deckard's death in his alternative ending, the thought alone is just upsetting. Thankfully, they let Deckard live, allowing his story to possibly develop further in the future.
What will Deckard's future look like? Well, Fancher already has a few ideas. "The first time Ridley and I ever considered doing a second Blade Runner, in 1986 or whatever it was, I came up with an idea about Deckard and his next job – and it's kind of horrifying what happens in my little fantasy," Fancher said. "Now that Deckard lives, that idea is back in my head. But I'm not going to tell you what it is."