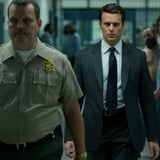 Image Source: Netflix
If you're into the serial killer genre, your next favorite show is bound to be Netflix's psychological thriller Mindhunter, about two FBI agents who interview serial killers in order to gain insight into the minds of how these kinds of murderers think.
If you think that sounds an awful lot like the plot of an Oscar-winning film or an Emmy-nominated TV show, you'd be right. So just what kind of connection does Mindhunter have to Silence of the Lambs and Hannibal?
The Hannibal Lecter series of four books were written by Thomas Harris between 1981 and 2006. In them, one recurring character is Jack Crawford, the agent-in-charge of the FBI's Behavioral Science Unit – and here's where the connection to Mindhunter comes in. Crawford is based on John E. Douglas, the real-life FBI criminal profiler on whom Jonathan Groff's Mindhunter character is based (and also who co-authored the source material, Mind Hunter: Inside the FBI's Elite Serial Crime Unit).
Crawford has been played over the years by a variety of actors. It's particularly confusing because the character first appeared onscreen in the 1986 crime film Manhunter, which is based on Harris' novel Red Dragon – but which carries a similar name to Mindhunter. Dennis Farina played Crawford in that film, followed by Scott Glenn in Silence of the Lambs, Harvey Keitel in Red Dragon, and then Laurence Fishburne on NBC's Hannibal.
Image Source: NBC
However, Groff's Holden Ford, while also based on Douglas, is not Jack Crawford, nor is Anna Torv's psychologist character meant to be an iteration of Clarice Starling (Jodie Foster). They are instead based on real FBI agents and consultants, who helped institute the FBI's use of psychology in its profiles of serial killers.
So while both Harris's books/films and this new David Fincher project on Netflix might be drawing from John E. Douglas' life and FBI career, Mindhunter is not directly connected to the Hannibal Lecter series.