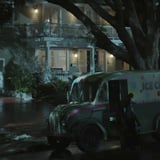 Image Source: FX
Clowns may be plaguing Ally and Ivy's Detroit neighborhood on American Horror Story: Cult, but the only thing scary about the real-life location of their home is what a great investment it has been for the owners. The gorgeous property has five bedrooms and three bathrooms and is actually located in the Orange Grove neighborhood of Los Angeles. The last time the two-story house was on the market in 2008, it sold for $ 1.5 million, and it's now estimated to be worth $ 2 million. Whoever the lucky owners are, they clearly made a wise choice in buying the house when they did.
With 2,604 square feet of living space on a spacious lot, the AHS: Cult house is perfect for a family. The house itself is beautiful, but it's not particularly reminiscent of any one style. Instead, it looks very much like a house you could find in any upscale suburban neighborhood in America. It certainly doesn't feature the shambling creepiness of the Murder House or the immediate eeriness of the AHS: Hotel location. Instead, the neighborhood looks downright cozy, and the cool green of the home's exterior only adds to the inviting feel. There's even an actual white picket fence – the most all-American feature of them all.
That's exactly why this particular home is so perfect for this season of AHS. In a year when the horror is grounded in reality, the setting needs to feel mundane in contrast. The feeling that what's happening to Ally could happen anywhere is only amplified by the comfort of her living space. However, there is one detail that immediately stands out when you look at the house, and that is the upstairs balcony. There are two sets of french doors that open up to the large outdoor area, and this is one feature that is sure to give anyone a major case of house envy.
Image Source: Compass International Pictures/ Everett Collection
Eagle-eyed horror fans will know this particular balcony is legendary in movie history because the Orange Grove home has been used as the picture-perfect suburban house by Hollywood before. If Ally and Ivy's house looks familiar, it's because it was used as the exterior for Tommy Doyle's home in the 1978 classic Halloween. Little Tommy is the child Laurie Strode is babysitting when Michael Myers turns her evening into a fright fest. Ultimately, Michael falls from the same balcony that remains the real house's best feature.
The home's horror history should act as a reminder that even the most innocuous-looking houses can provide the perfect setting for scares. Ally and Ivy's home is a welcoming abode from the outside, but inside lurk fears, paranoia, and distrust – proof that you never know what's really going on behind closed doors. (That goes double for stunning, drool-worthy french doors.)