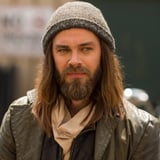 Image Source: AMC
Though Jesus and Rick get off on the wrong foot when he first appears on The Walking Dead and tries to steal Rick's car filled with supplies, they've since become allies and joined forces with the Hilltop and Alexandria. Good thing, too, since it's now an all-hands-on-deck situation with Negan and the Saviors.
We don't know a ton about Jesus's background, like we do with other characters – besides the fact he is gay – but luckily we what actor Tom Payne's been up to during his career.
Prior to The Walking Dead, Payne starred in the sci-fi thriller MindGamers. His character, Jaxon, a supersmart student at a quantum academy, is part of a team that hopes to manufacture a collective consciousness that's connected through a computer. But as the team soon learns, they're part of a much darker experiment.
Image Source: Everett Collection
Two years before MindGamers, Payne starred in The Physician, a period piece about Persia in the 11th century. Payne played Rob Cole, a Christian who disguises himself as a Jew so he can study at a school to become a surgeon. Because the school is in Muslim lands, and Christians are forbidden from entering, Rob rechristens himself Jesse ben Benjamin and even circumcises himself to pass as a Jewish man. While we love Jesus's long locks, Payne's short hair is totally working for him as well. Just sayin'.
Image Source: Universal Pictures
One of Payne's other big projects before he joined The Walking Dead was the rom-com Miss Pettigrew Lives For a Day. Costarring Amy Adams, Frances McDormand, Lee Pace, and Game of Thrones's Ciarán Hinds, the film follows Guinevere Pettigrew (McDormand) as she helps singer and actress Delysia Lafosse (Adams) deal with her various affairs. One of those affairs is swoon-worthy Phil Goldman (Payne), who is looking to cast Delysia in a leading role for a West End play. Just look how cute Payne is in this movie. Sign us up.
Image Source: Everett Collection
Additionally, Payne also worked on the 2009 Wuthering Heights miniseries, the TV drama Waterloo Road, and an episode of Skins. His most recent work (besides the current season of The Walking Dead, of course) is the sci-fi short film It's No Game, which premiered this year. The production company shared the short on YouTube, which you can watch here!