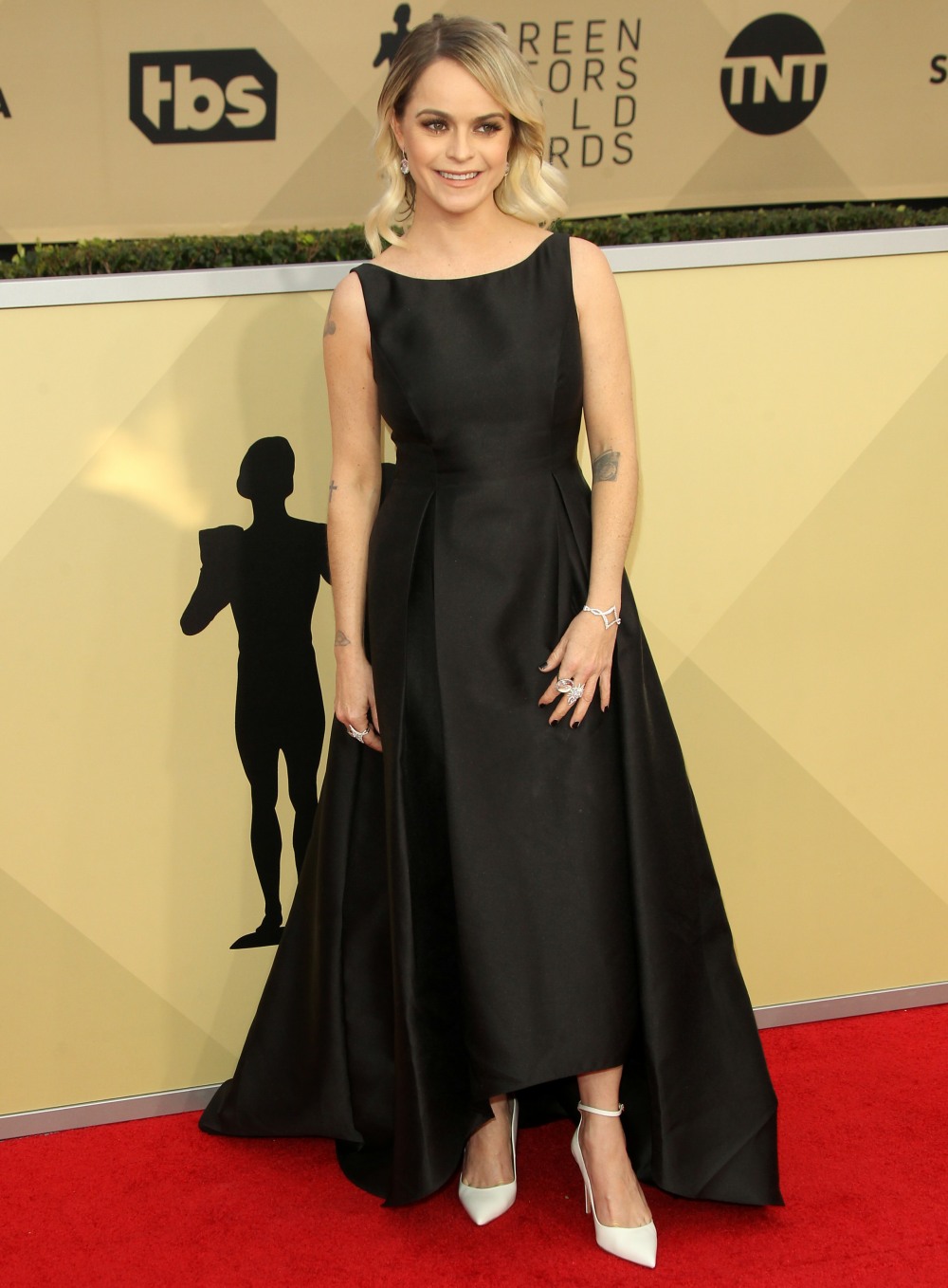 We didn't even cover these photos of Taryn Manning at the SAG Awards. She attended as part of the ensemble cast of Orange is the New Black, which was nominated for Best Ensemble in a Comedy Series. While the OITNB cast once ruled the awards-show red carpets, that's not really the case these days. Sure, the show still gets nominated for stuff, but I guess everyone has moved on to Black-ish? In any case, I'm not sure many people paid attention to Taryn. Apparently someone did notice that her simple black gown was an off-the-rack Adrianna Papell gown which costs $ 200. A lot of money for one dress, for sure, but for a red carpet dress on a SAG-nominated actress? That's bargain-basement cheap. When the TMZ videographer stopped Taryn and asked her about the dress, she seemed like she was upset about it:
She says "it's wack that my stylist didn't tell me that…Now everyone else can afford it, that's what's cool about it, but it still sucks for me. I want to be in like a superstar gown … So the designer got a lot of press. She should pay me a lot of money." Which is petty and stupid on one hand, and yet… on the other hand, I know exactly what she's trying to say. Being nominated for a SAG Award is a big deal. Attending one of these awards shows is a big deal. You want to feel like a beautiful, glamorous superstar in a great dress. You don't want to *unknowningly* wear an inexpensive dress to this big event. It would have been fine if she did it knowingly, and if it was her choice. She felt used by her stylist and by the designer.
After that TMZ video, Taryn clarified herself on Instagram:
Again, I sort of understand where she's coming from. She would have liked to knowingly made a statement by wearing an affordable mass-market gown, but it wasn't even her choice. Her stylist gave her this inexpensive dress and I guess she didn't ask how much it cost, and she felt duped after the fact. Is this the most important thing? Of course not. Taryn knows that too. But you have to admit – this was poorly played by her stylist, right? Then again, it would be interesting if this became more of a thing for stylists to dupe their clients into wearing super-affordable clothing. More Gap t-shirts and skirts from Talbot's please!