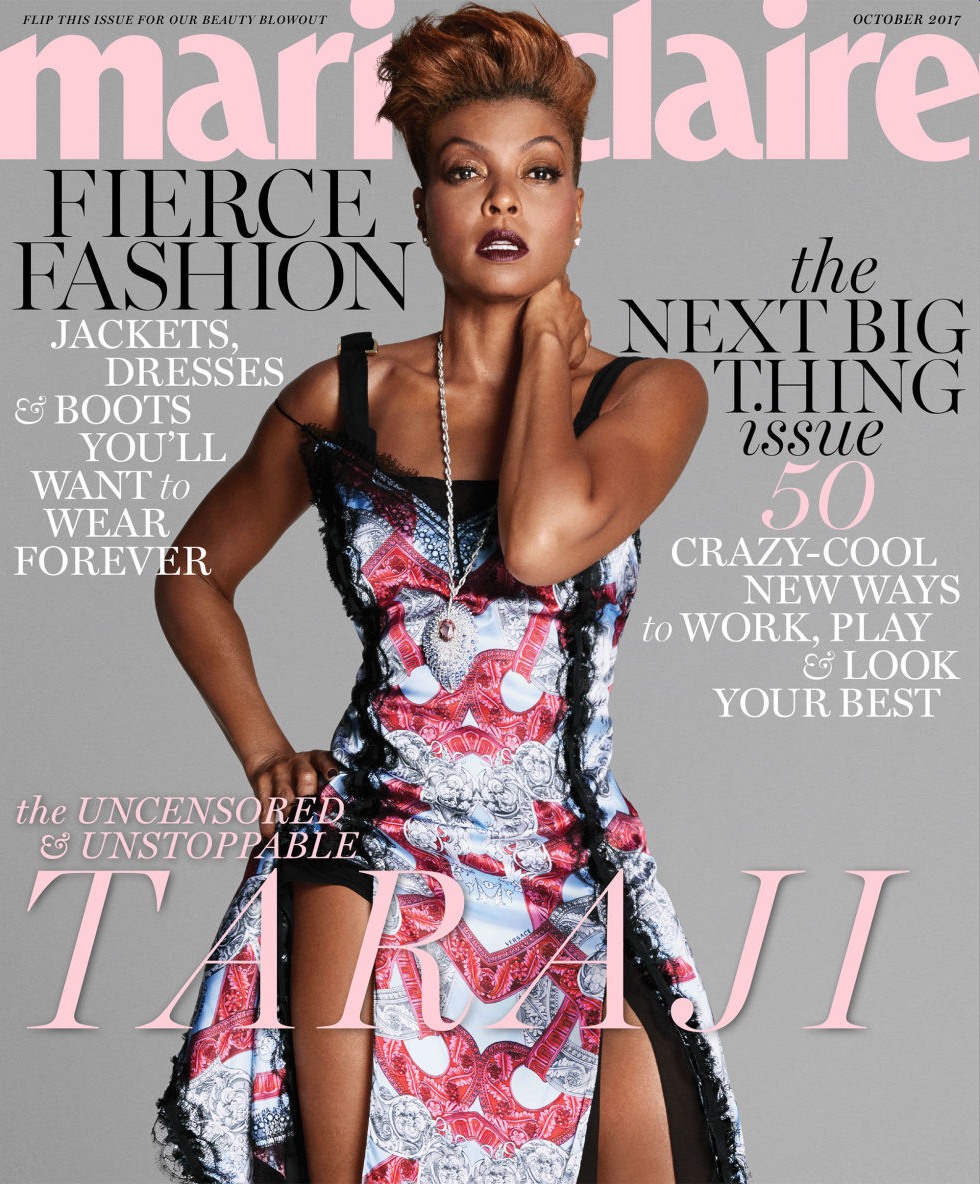 There are certain people in Hollywood who became famous a bit later in their lives. While Taraji P. Henson was a working actress in her 20s, she didn't really become a major star, a "name," a magazine cover fixture until she was well into her 30s. And I think that makes a difference in how we talk about Taraji and how we feel about Taraji. I'll speak for myself: I love her and I love that she's famous. I want her to be in half of all of the movies Hollywood puts out. I want her on all of the magazine covers. I think she's funny, talented and interesting, and part of that is because she became famous a bit later in her life. Fame isn't something that bothers her. She embraces it. She loves it even. And I love that about her. Anyway, Taraji covers the October issue of Marie Claire – you can see MC's cover package here. Some highlights from the interview:
A street paved with diamonds: "I'm drawn to people who've got passion, who've got their bigger picture." That's when you realize that every piece of her ensemble means something. Take, for instance, her René Caovilla strappy heels. When her father was dying of cancer, "People would come to the house and cry, and he would ask them, 'Why are you crying?'" she says as she takes off her sandal to reveal its glittery sole—a detail that reminds her of him (he died in 2006). "'Where I'm going, I'm going to be walking on streets paved with diamonds.' That's what he said."

She propelled her own narrative: She is the girl who "came from the g–damn hood and put myself through Howard University" to nearly insurmountable heights in an industry that doesn't center women, especially black women who, as she writes in her best-selling memoir, Around the Way Girl, don't "have the look of, say, a Halle Berry, or the ethnic ambiguity of a Gugu Mbatha-Raw," but the look of "an everyday, round-the-way girl."

Being cast in 'the ghetto role' in 'Baby Boy': "I just knew [I'd be typecast]. They are going to think this is all I can do. So I was like, 'Never again a ghetto role. I'm not saying I can't do it later, but right now, I have something to prove.' My mission became showing that I'm a character actress. I can give them as many different performances as Meryl Streep—who is the one they look up to? Meryl Streep. Watch this. You think black women can't do it? I'm trained just like she is."

On supporting other women in the industry: "How can we get ahead if we're feuding and hating on each other all the time? I made a pact years ago that I would never hate on another female, ever, especially in this industry."

On the legacy she wants to leave: "I love black people. I love telling stories. I want these little girls to study me like I studied Meryl and Bette Davis and Carol Burnett. I want them to study my work, because I put a lot of work in, a lot of blood, sweat, and tears."

On dating: "I would love to [be in a relationship], but he has to see how I move and deal with it, because I don't have time to explain. I've got work to do."

On doing her own laundry: "That keeps me normal. That keeps me feeling like, Yeah, I'm not too Hollywood."
I don't think "doing your own laundry" keeps her real but that's fine. She's real in many other ways. The way she talks about Meryl and wanting to prove herself as a character actress… it reminds me of the way Viola Davis talks about Meryl too. There are basically two generations of black actresses who love Meryl Streep and want to be just like her. And that's great. Taraji is a great character actress.
Also: I think Taraji is single? Or single-ish, maybe, since she keeps her romantic life pretty quiet. People are always trying to set Brad Pitt up with party girls and Charlize Theron, but what if Brad got with Taraji? They're friends, they've been friends for years. I would actually love it if they got together.
Photos courtesy of Getty, cover courtesy of Marie Claire.