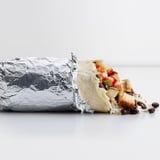 You may have gone to Chipotle for years, but do you know all of the menu secrets? These are the most crucial ones, depending on what's most important to you:
For the biggest portions, order the bowl.
If loading up on the biggest portions is important to you, always order the bowl, not a burrito, and ask for a flour tortilla on the side (it's no extra charge). Since a burrito has to be rolled up, the portions are automatically smaller! Womp, womp.
For the cheapest burrito, order by points.
Chipotle values ingredients with points. Order an item with three or fewer "points," and you are charged less. Tortillas and taco shells are zero points. Guacamole and meat count as two points. And everything else (rice, cheese, etc.) is one point. This tip is especially awesome if you want a snack-size burrito (rice, beans, and cheese, anyone?) or are a picky eater.
For free guac, order the vegetarian burrito.
I will actually do anything for free guacamole, including sacrificing meat. (That sounded funny.) True story, Chipotle includes guacamole FOR FREE if you order a vegetarian burrito. This does not include sofritas.