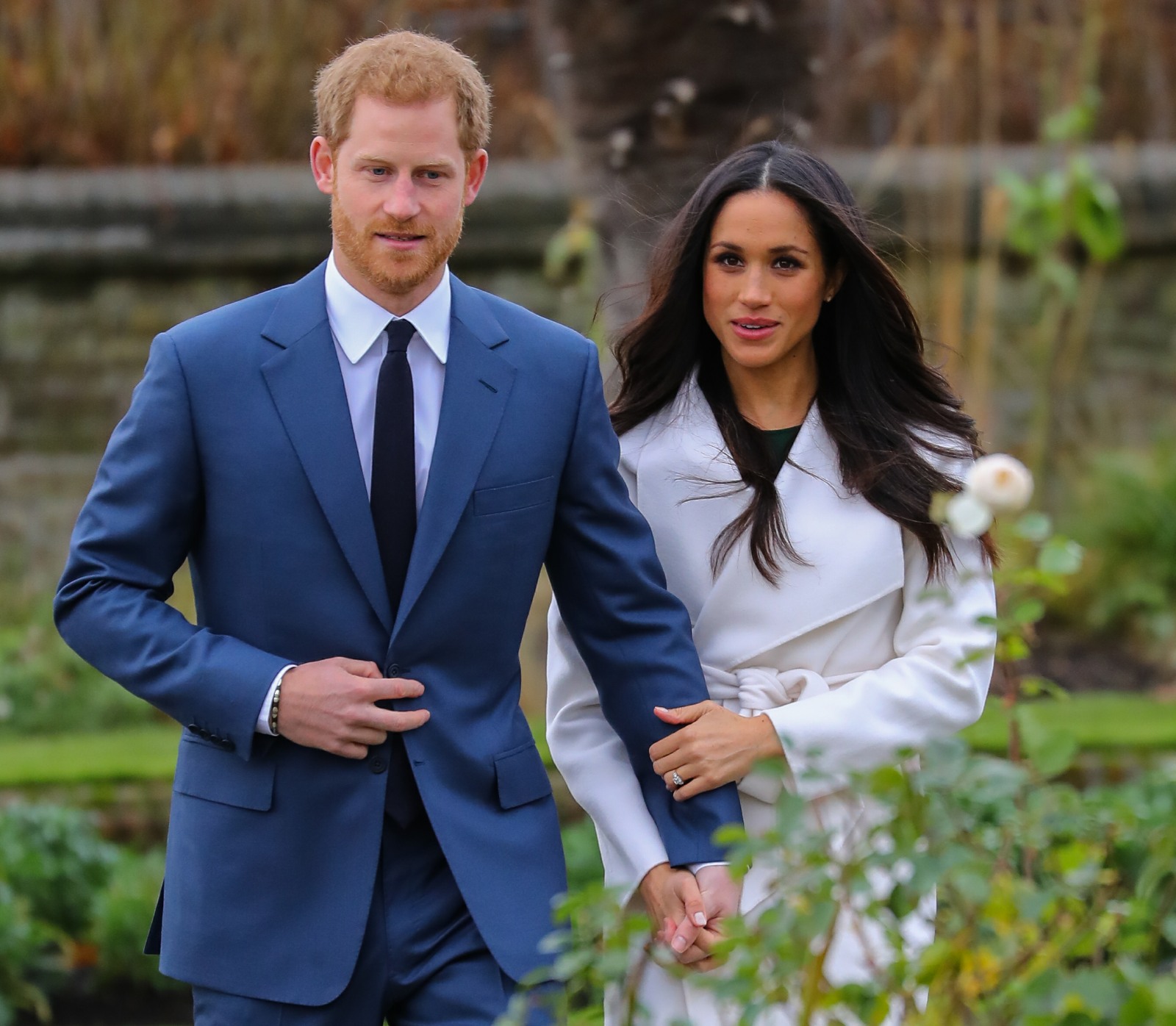 Prince Harry and Meghan Markle have already had a busy day, I guess. No, their people have had a busy day. Prince Harry reportedly told his Kensington Palace staff (POOR JASON) two weeks ago that he wanted to announce the engagement today. Which means that this is the official rollout from Harry's office, working in concert with Buckingham Palace and Clarence House. So far, everything is going to plan, and everything has been planned down to the smallest detail. The "wild card" here is the sit-down interview, where any question can be asked and Harry or Meghan might go off-script. The interview will apparently air at 6 pm GMT, which is 1 pm EST (here on the east coast, in America). What will they say? Hmmm…
In the meantime, please enjoy these bonus photos of Harry and Meghan at their engagement photocall, and please enjoy all of the speculation from People Magazine regarding their titles.
Don't look for Princess Meghan anytime soon. Now that Meghan Markle is engaged to Prince Harry, her royal title is one of the key issues to sort out. Unlike Kate Middleton, however, she will not be given a princess title — but the Duchess of Sussex could be just the right fit.

When Kate married Prince William, the couple received their royal titles of Duke and Duchess of Cambridge. As the next in line to the throne behind Prince Charles, William is expected to become the Prince of Wales — and Kate, therefore, the Princess of Wales — when Charles ascends the throne. (Princess Diana, of course, was previously the Princess of Wales.)

Harry is fifth in line to the throne and will slide down to sixth after William and Kate's third baby arrives in April 2018. Most insiders believe that if the Queen hands him a royal dukedom, like Prince William received upon his 2011 wedding, Prince Harry will be made the Duke of Sussex on his own wedding day. That would make Meghan the Duchess of Sussex, mirroring Kate's title of the Duchess of Cambridge.

Other options include the Duke of Clarence and Avondale, the Duke of Connaught and the Duke of Windsor — but considering that the last Duke of Windsor (Edward VIII) abdicated the throne to marry his divorced American wife, that seems unlikely.

'Unless they create a new title for them, I think the Duke of Sussex is the most likely title," says Joe Little of Majesty magazine. "Otherwise, Keghan would be known as Princess Henry of Wales and people wouldn't not understand that these days. But they may surprise us."

As for where the newlyweds will live, Clarence House confirmed on Monday that they will settle in Nottingham Cottage, Harry's two-bedroom residence at Kensington Palace in London, where staff already know Markle. In a similar fashion, Prince William and Kate Middleton lived together at St. Andrews University and then at a secluded farmhouse in North Wales briefly before they wed in April 2011. There has been speculation that one day Harry will move into Apartment 1 at the palace, which has 21 rooms and is currently the home of the Duke and Duchess of Gloucester.
It is SO RICH for People Magazine to do a "don't call her a princess" story considering they refer to Kate as "Princess Kate" constantly (and it still hasn't stuck, no one but People Mag really does it). I believe Meghan will end up a duchess too, and I think the chances are pretty good that they'll get the Sussex titles, but we won't know for sure for months. Remember when the Queen gave Will and Kate the Cambridge titles? It was THE DAY OF THE WEDDING. I still have my fingers crossed that Meg and Harry will get an entirely new title, because why not? The Duke and Duchess of Crumpets, y'all. So old school! Also: didn't Prince Edward reject the Duke of Clarence title? I seem to remember reading that a while back, that Edward loves researching the history of titles and the Clarence title has a fraught history, so he rejected it and the Queen ended up giving him the Earl of Wessex.
Also: I feel like I'm getting drunk on these photocall pics. They look so happy and in love!!