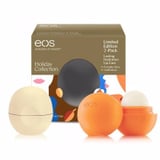 Now is truly the time to pumpkin spice up your life. You can PSL your highlight, cuticles, hell, even your armpits can join in the zesty fun.
Fans of Burt's Bees know that pumpkin spiced lip balm is nothing new. Still, we're excited to let Eos-addicts know that the brand has released its own Holiday Lip Balm Duo ($ 6) – one half of which contains, you guessed it, a gourd-inspired formula.
This pack of two popular spherical balms includes a Natural Pumpkin Spice flavored option, along with one that's made of Organic Vanilla Bean. Along with making your mouth smell like that of a kissable autumnal goddess, this conditioning oil and shea butter-based recipe hydrates, softens, and beautifies lips. No chapped pout for pumpkin princesses!
This new bundle is limited edition, so its presence is as fleeting as Fall itself. You know what that means: if you need this in your life, get it fast.