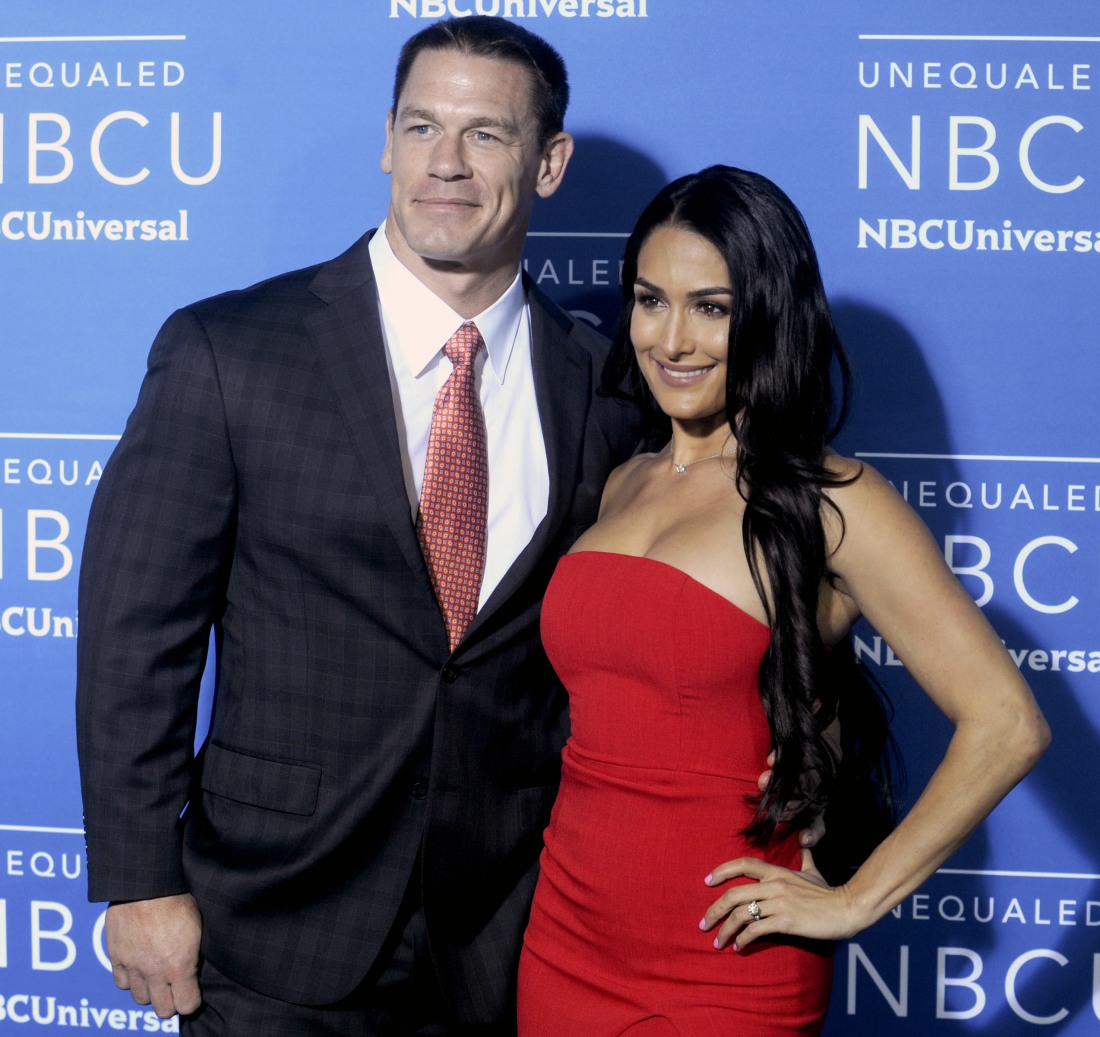 The fact that John Cena and Nikki Bella called off their engagement just a few weeks before their May 5th wedding was not really that surprising. What was surprising was the fact that Cena even proposed. Cena was always very straight with Nikki Bella: he loved her, he was happy with her, he wanted their relationship to be on his terms, and he wasn't interested in getting married or having children. Nikki tried to convince him to change his mind for years, but he never seemed likely to change his mind. Until he proposed last year. Which might have just been for the sake of his brand, or for their brand together. Whatever he reasoning, he got cold feet. And now Nikki wonders why he even proposed.
Nikki Bella is "heartbroken" and "devastated" by her split from John Cena just weeks before they were set to tie the knot.

Although Cena, 40, admitted in the past that he didn't want to get married again — he was previously married to Elizabeth Huberdeau from 2009 until 2012 — he got down on one knee and proposed to Bella in April 2017. However, a source tells PEOPLE that he started getting cold feet as the wedding date drew near.

"She never gave him an ultimatum. He talked a really good game about having changed, about having his priorities straight, about knowing what's important, and that it was her. But as the day got closer, it was like he just went back to who he's always been — which is someone who puts himself first, always," the insider says. "He's an incredibly dedicated, driven, ambitious guy. And for the longest time he said he didn't think he had room in his life for a spouse or kids. It seems like in the end that was still the truth." The source continues, "But in that case, he never should've proposed, let alone in front of millions of people. Now she's heartbroken."

Bella is "devastated," the source says, adding, "This was supposed to be the happiest time of her life. He ruined it and blew everything up."

The professional wrestlers' wedding was set for May 5 in Mexico, where Bella was excited to celebrate her heritage with family and friends.

"It wasn't going to be some showy Hollywood, over-the-top glitzy thing," the source tells PEOPLE.

The insider says Bella, 34, will be "fine," but Cena has shown his real self.

"In wrestling there are two archetypes: faces and heels," the source explains. "A face is a good guy, a hero, who you root for. A heel is a villain, who sometimes can seem like a good guy but then turns around and shows his true, evil colors. John Cena just revealed himself as the ultimate heel."
I don't know… I feel sorry for both of them, actually. Nikki is genuinely devastated because she thought she was going to marry the man she loved in just a few weeks and now she's got no husband, no boyfriend, and probably no home too (they were living together at his place, I'm pretty sure). I feel sorry for Cena because I think he loved Nikki and he was really happy with her… as his girlfriend. She DID pressure him to propose and I think he got to the point where he thought she would break up with him if he didn't propose. So he did, maybe thinking that he was changing. But he didn't change. Or hey, maybe I'm totally wrong and this was all just some reality show storyline. Who knows.
PS… Yes, I'm surprising myself about how much I know about this now-defunct couple. I think I've watched a grand total of two episodes of Total Bellas. But it was all I needed to know!!