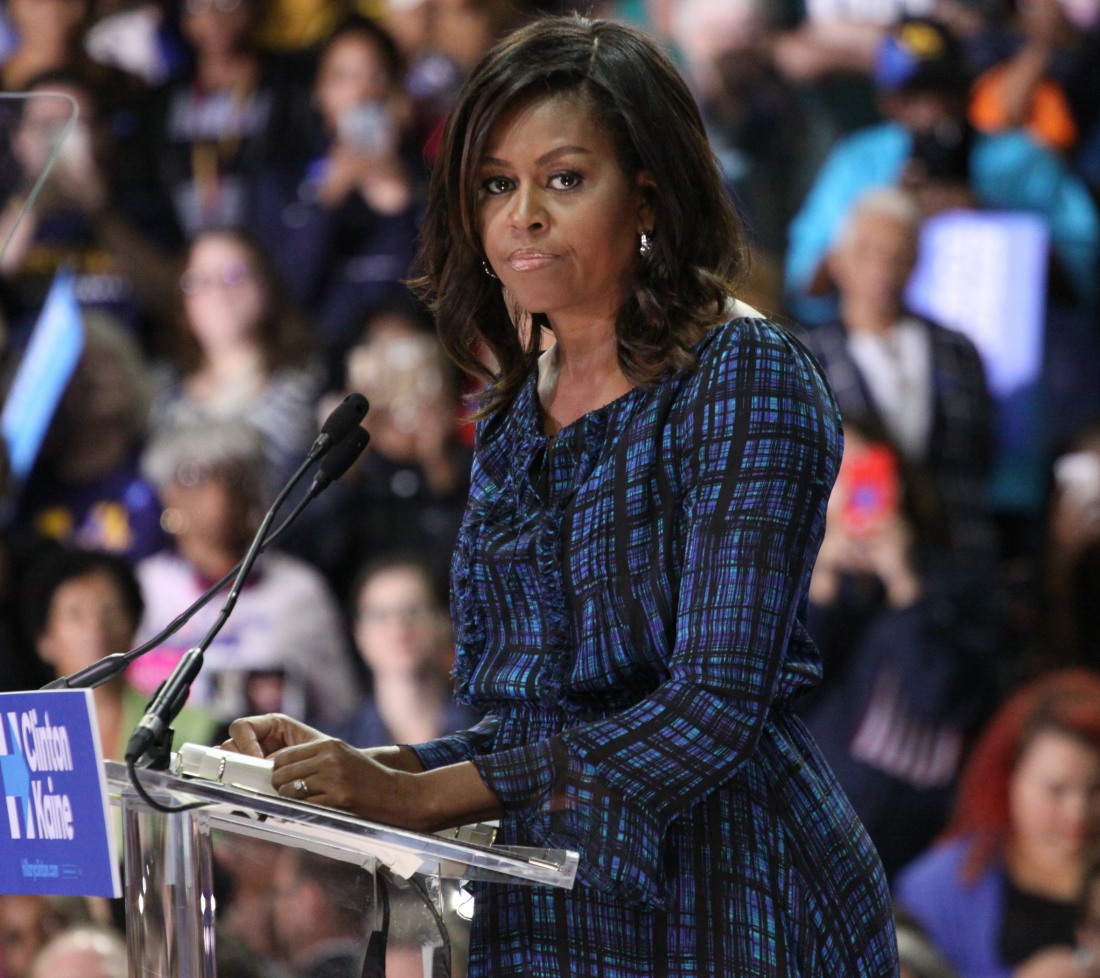 It was around this time one year ago that Michelle Obama began to get publicly grim. Like, the wear and tear of the 2016 election was really getting to her, and she showed the strain publicly. She hated Donald Trump. She still hates him. She still thinks he's deplorable. But she can't come out and say that he's trash. She can't come out and say that everyone who voted for him is trash. But she comes close. Michelle took part in the INBOUND 2017 forum/discussion this week, and Michelle's Q&A session was conducted by Roxane Gay. They had a ball together. And this happened:
In candid remarks Wednesday, former first lady Michelle Obama said women who voted for Republican nominee Donald Trump over Democratic nominee Hillary Clinton went against their "authentic voice" in the 2016 presidential election.

"Any woman who voted against Hillary Clinton voted against their own voice," she said at the Inbound 2017 conference in Boston, according to video from inside the event. "What does it mean for us as women that we look at those two candidates, as women, and many of us said, that guy, he's better for me, his voice is more true to me. Well, to me that just says you don't like your voice. You like the thing you're told to like."

She added, however, that she and her husband still support Trump and want him to succeed for the sake of the country.
She's not wrong. I too SMDH at the women who voted for Trump, the women who think that Trump best represents their needs. How much do you loathe yourself to be a woman who voted for Trump?? And you know what's still sort of interesting to me? Michelle continuously trashed Trump for months during the election, but she did so without ever saying his name. In turn, Trump has never gone after Michelle. Trump has literally attacked everyone and everything else, but he's never put Michelle's name in his mouth. Does Trump know, deep in his lizard-brain, that if he ever named her, all hell would break lose?
Also, at the end of this conversation, Roxane Gay asked Michelle to name her favorite song on Beyonce's Lemonade. Michelle's answer? "Love Drought." I love you Michelle and imma let you finish but there are like six songs on Lemonade which are SO MUCH BETTER than "Love Drought." Punk Beyonce "Don't Hurt Yourself" is AMAZING. Country Bey "Daddy Lessons" is baller. Sexy-badass Yonce "6 Inch" is the bomb. And Beysus & Kendrick Lamar's "Freedom" is everything. Don't come at me with this "Love Drought" nonsense. (WHY DIDN'T MICHELLE SAY "FORMATION"???)
Me and My President. pic.twitter.com/TzVS6yeyY4

— Issa Rae (@IssaRae) September 27, 2017