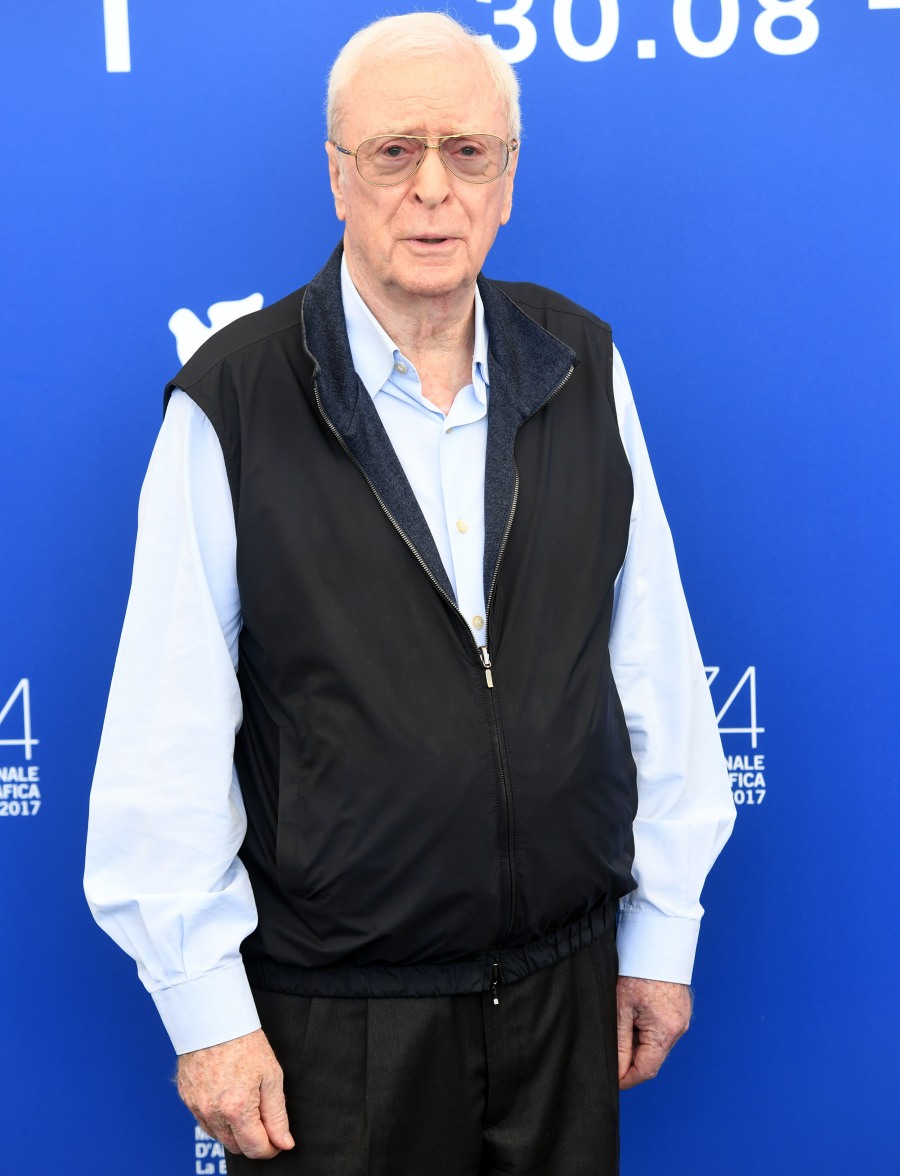 Michael Caine is currently promoting a six-part documentary series called My Generation. It's a journey through the 1960s, especially with pop culture/music/films/drugs whatever. It was a simpler time back then, only not really. Caine is in his 80s (he actually turns 85 today), and he's still sharp as a tack and surprisingly… well, I won't say he's "woke," but he's aware. More aware than most 80-somethings, I would wager. He chatted with the Guardian about drugs, cigarettes, feminism and Woody Allen. Note: Caine won his first Oscar for his work in Woody Allen's Hannah and Her Sisters. Now Caine doesn't want to even know Woody.
Drugs & alcohol in the '60s: "In the 60s, we were drinkers. What ruined the 60s, towards the end of the decade, were drugs. If people were taking cocaine, they'd start talking bollocks and not stop for hours. If they were on other drugs, they'd just sit around, going "Wow, man." So it was either people talking too fast to understand, or people not saying anything at all. It brought to an end the 60s as we knew it – which was a load of drunks getting up to all sorts and dancing like mad.

How he stopped smoking: "I smoked a lot, but Tony Curtis saved my life. I was at a party, chain-smoking by the fireplace, when a hand came round from behind me, took the cigarettes out of my pocket and threw them in the fire. I turned round and it was Tony Curtis. We'd never met, but he said: "I've been watching you, Michael. You're going to die if you keep doing that, you idiot." So I quit. I later took up cigars, but gave them up because of Hurricane Higgins, the snooker player. I knew Alex quite well, and one night I was smoking a cigar while watching TV. Alex came on the screen with a voice-box and I could see he was dying. I stubbed the cigar out in the ashtray and never smoked again.

My Generation has a 50/50 gender split of contributors, which he insisted upon: "Absolutely. I'm a feminist to the core. An interviewer once asked my wife, "What first attracted you to Michael?" and she said, "The way he treated his mother." I respected women tremendously, right from the start. I just didn't know I was a feminist until they invented it.

Who should be the next James Bond: "Tom Hardy. And make him do a posh accent.

The accusations against Woody Allen: "I am so stunned. I'm a patron of the NSPCC and have very strong views about paedophilia. I can't come to terms with it, because I loved Woody and had a wonderful time with him. I even introduced him to Mia [Farrow]. I don't regret working with him, which I did in complete innocence; but I wouldn't work with him again, no.
NSPCC is National Society for the Prevention of Cruelty to Children, which works with children who have been abused or molested. I didn't know Caine was involved with that kind of organization. I think Caine did a good job of walking that weird line that so many actors feel they have to walk – they want to say that they never saw anything weird about Woody and they didn't know anything, but that they're appalled and shocked. As for "I just didn't know I was a feminist until they invented it…" Hm… I guess that's okay?