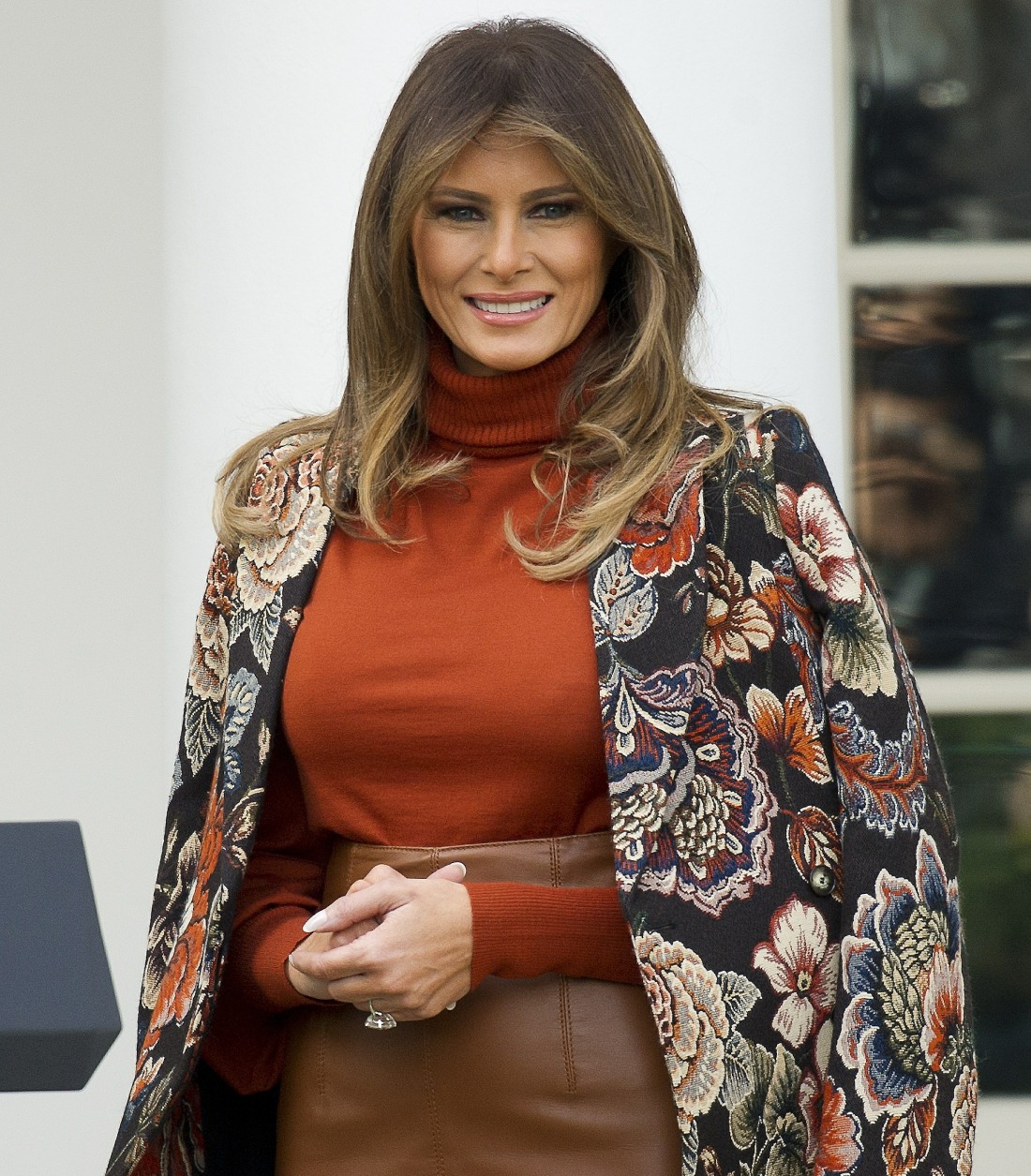 This is a weird thing to complain about, given the scope of treason and felonious behavior with this White House, but it absolutely drives me crazy that Melania Trump has such fondness for high waisted everything. The combination of high-waisted skirts/slacks with her figure does her no favors. She thinks she's making her legs look longer and perhaps hiding a little tummy, but what she's really doing is making herself look crazy short-waisted (which she isn't) and ridiculously heavy-breasted.
Anyway, not knowing how to dress her figure is just one of Melania's many problems. Vanity Fair has an exclusive report about how Melania gave her husband an ultimatum about running for president in 2014, and how she really, really never thought he would end up winning. She never wanted to be First Lady, which isn't really breaking news at this point. VF also talks about just what Melania actually does all f–king day, which isn't much. She really doesn't like to spend time in the White House or with her husband. She's uncomfortable with making speeches, she hates hostessing and she loathes pretending to be normal. Her East Wing offices are sparsely staffed, but VF's sources take pains to say that Melania is actually really nice to the White House household staff (the ushers, maids, etc), that she's kind to everyone and she's used to dealing with large household staffs.
The point of the VF article is not that Melania is a terrible person or that her marriage is in shambles or anything like that – it's more about Melania being unsuited and uncomfortable in the First Lady role, and how she's taking her sweet time figuring it out. In any case, the VF article was apparently bad enough that Melania's sparsely staffed FLOTUS office had to issue a statement about it:
Fighting back. Melania Trump's office is responding to claims made in a Vanity Fair article on Friday, November 26, that she did not want to be first lady.

"One again part of the liberal media, this time Vanity Fair, has written a story riddled with unnamed sources and false assertions," a statement from a FLOTUS' spokesperson to CNN reads. "As a magazine tailored to women it is shameful that they continue to write salacious and false stories meant to demean Mrs. Trump, rather than focus on her positive work as first lady and as a supportive wife and mother. As has been stated on the record many times before, she is honored by her role."
"…Rather than focus on her positive work as first lady…" What work again? That one speech she made where she looked like a frightened Fruit of a Loom reject? That's literally all she's done. Oh, she also wore heels to make the trip to visit hurricane refugees. MUCH WORK. So positive.
Here's more of Melania's positive work: apathetically watching ballerinas from a half-darkened White House alcove, looking like a ghost-bride of Christmas Past.
Just your average day covering FLOTUS and ballerinas at the White House… pic.twitter.com/BlCNR7OhwW

— Judy Kurtz (@JudyKurtz) November 27, 2017