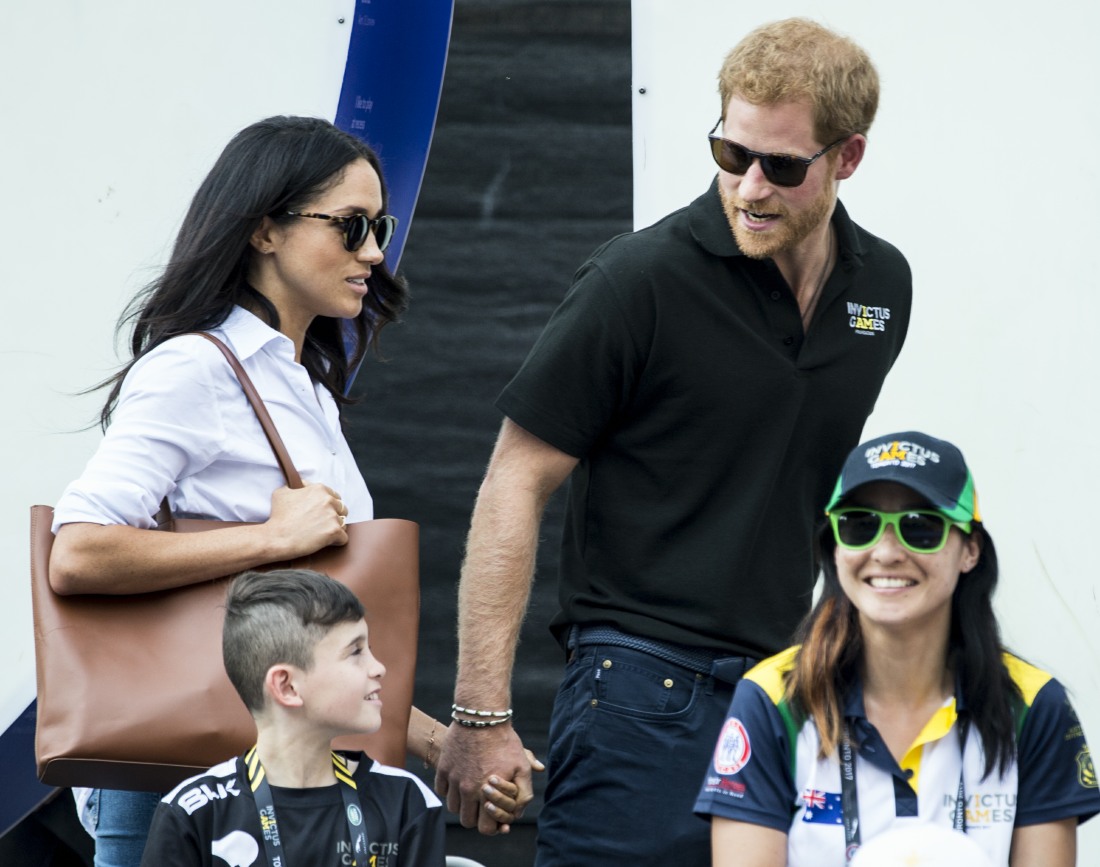 Meghan Markle was not seen around the Invictus Games on Tuesday, possibly because people were still recovering from her appearance with Prince Harry on Monday. It was HUGE news and it totally changed the gossip around them. Most of us are now convinced that the engagement will be announced sooner rather than later and that we'll be getting a royal wedding at some point in the first half of 2018. We also knew before the Invictus Games that Harry would not be staying at Meghan's place in Toronto – there are security concerns, plus I think he just needs to be more centrally located for official business. So he's staying in a hotel suite. And according to the Daily Mail, Meghan has basically moved in.
On their first official appearance together she wore a 'husband' shirt. Now Meghan Markle has moved into Prince Harry's Toronto hotel suite while he is in the city for his Invictus Games. The couple are staying in one of the best rooms at the Fairmont Royal York, one of Canada's leading hotels. It is not known which suite they are occupying but the Royal Suite – which would certainly be appropriate – has a bar, fireplace and 16-seater dining room. It costs 2,318 Canadian dollars a night including taxes, or almost £1,400. One of the smaller suites would be 1,854 Canadian dollars (£1,160).

Although she was born in the US, Miss Markle has lived in Toronto, where she films the legal drama Suits, for five years. When he visits his girlfriend in the city, Harry, 33, normally stays at her rented house in a quiet, upmarket suburb. Cars being used by his security detail were spotted at the low-key residence when he arrived in Canada last week, several days before the start of the Invictus Games, the sporting competition Harry created for injured servicemen.

Since then, the couple have moved to downtown Toronto, where they have been discreetly living together at the Fairmont. The hotel, which opened in 1929, recently completed a five-year multi-million-pound refurbishment. A source said Harry needs to be in the city centre for engagements and meetings and was also concerned about the presence of photographers outside Miss Markle's house. They added: 'Why wouldn't he want her to stay with him? They live apart so much as it is.'
Yeah, that sounds totally reasonable. It's actually reminded me of a nagging concern I have about these two: their entire relationship has been long-distance, and if and when Meghan moves in with Harry in London, they're both going to face a strange adjustment period where it goes from "every single moment with my beloved is precious because we live in different cities" to "oh, you again, this space is sort of confining."
What else? During his royal event yesterday, Prince William stopped by William Cowley Parchment Makers. The general manager of the company told William: "If Prince Harry marries Meghan then his certificate will be in our vellum." William apparently "responded with a diplomatic laugh." Huh.