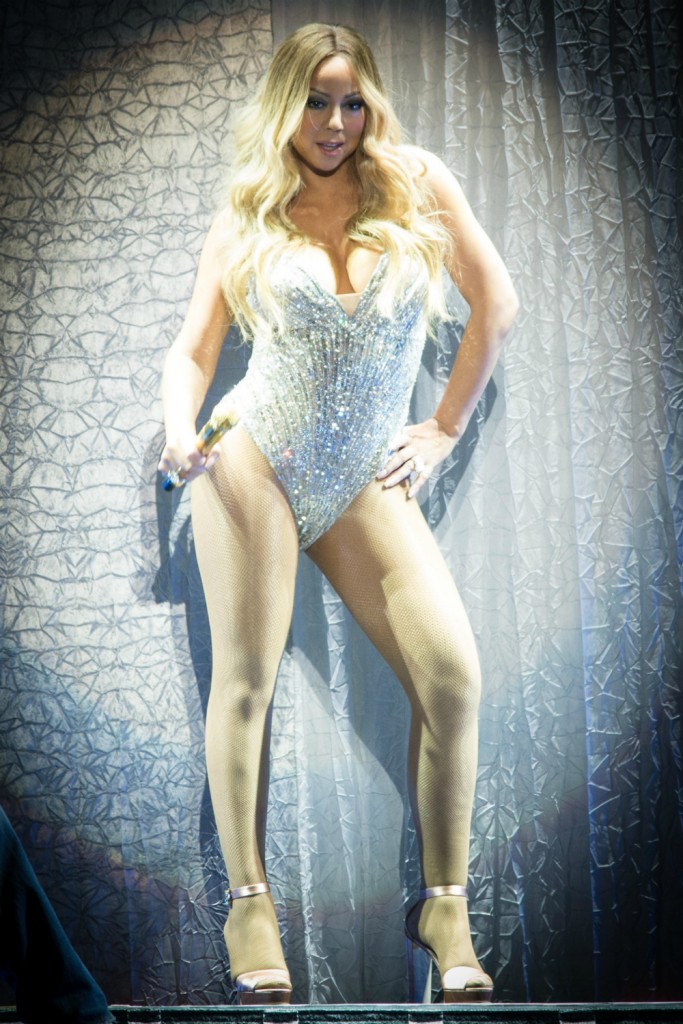 Mariah Carey is a singer extraordinaire, a diva and a legend in not only her own mind but several of ours as well. Please note that nowhere in that description did I say Mariah was a dancer. She does elaborate shows with plenty of dancers but her involvement is – let's say minimal. However, even though Mariah was never a Rockette, she used to at least put energy into the few moves she had. These days, we're lucky if Mariah doesn't take a seat in the middle of her performance and just sing from a throne. To illustrate the point, someone has done a side-by-side comparison of Mariah performances and it speaks for itself:
My favorite part is when she's temporarily hovered over the sailors. The guys holding her are really trying to convince us we're seeing mastery. Mariah's not just a bit slowed down, she's barely ambulatory. But why? Does she have physical ailments? Is she slowing down in her late 40s? Or is it something darker? According to her former choreographer, Anthony Burrell, it's none of the above. What Mariah has actually lost were all her 'f—ks' for anything other than singing. Anthony ended his four-year partnership with Mariah last January to work on many other projects – among them his Breaking Barriers Dance Intensive and Beyoncé's Parkwood Entertainment. But Complex got him to carve out a few minutes to discuss how Mariah lost her groove.
"It's just typical Mariah," Burrell said. "Mariah is clear: when she doesn't wanna do something, she doesn't do it. She's performing with lackluster and no fucks given, and it's taking away her star."​

As her choreographer, Burrell said he was focused on making sure Mariah was comfortable onstage as not just a singer, but an all-around performer.

"Working with an artist like Mariah, who's not a mover first, it's always a challenge to get them to think physically and not just vocally," he said. "You always have to keep in mind that they're a singer first. The priority is not teaching them 100 counts of 8, or endless routines. I wanted to give Mariah a modern push to revamp her, give her a fresher, more modern feel, make her more aware of her body and her lines, and not look like her feet hurt when she's walking."

Burrell had been working alongside Mariah for four years before they parted ways in January. Throughout that time, he says, Mariah had come to trust and depend on him heavily for show design and physical awareness while performing. Now, Burrell says, there's no one guiding her, and it's showing.

"You're a legend," Burrell said. "But you don't care, your team doesn't care. They're not guiding and directing her. She's back to where she was before. It's not like she's never looked this bad before; I just stepped her game up."

Burrell said that during his time in Mariah's camp, he got the sense that her team was flat-out inexperienced. "It felt like they were so new at their jobs, and had no direction," he said. "When you're green, you're playing things by trial and error, and there were a lot of errors. I was very vocal about things that weren't right. When you try to take a shortcut and you don't know the clues, you're bound to get fucked up or screwed, because you don't have the experience of running a tour or a billion-dollar empire. Some of the dancers her team hired are great dancers, but they're not choreographers or creative directors."
I know what Anthony means when he says that great dancers are not necessarily good choreographers. A good choreographer is worth their weight in gold. They make sure they know the strengths and weakness of their dancers so they can be shown in their best light. Even if their weakness is they have no f–ks to give, a choreographer can mask that where a dancer is forced to dance around it. Yes, Anthony is throwing some serious shade, but I believe he would say all of this exactly as he said it if Mariah was sitting beside him. I think watching her star dim probably hits him in the chest. He posted both these Instagrams after he left Mariah's team:
Mariah's conspiracy theories about her New Year's Eve disaster aside, most performers would have vamped or found a way to save that performance. Mariah just gave up and walked off the stage. I do think when Anthony left, Mariah thought she had it covered and when she didn't, she decided not caring about it was the easier option. Her sole focus on that stage is to sing and show off her voice. If someone wants to casual float her over a sailor-wall during a musical interlude, that's fine. For me, this is funny because I find the antics of divas and ice queens wildly entertaining. But I imagine for someone like Anthony, this is hard for him to watch.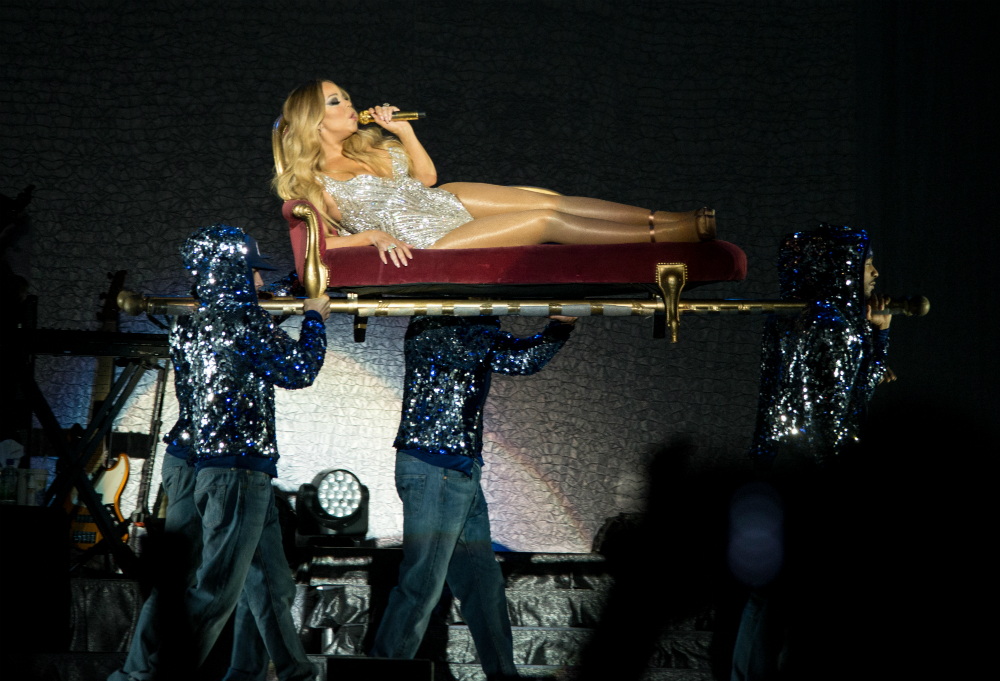 Photo credit: Instagram, Getty images and WENN Photos