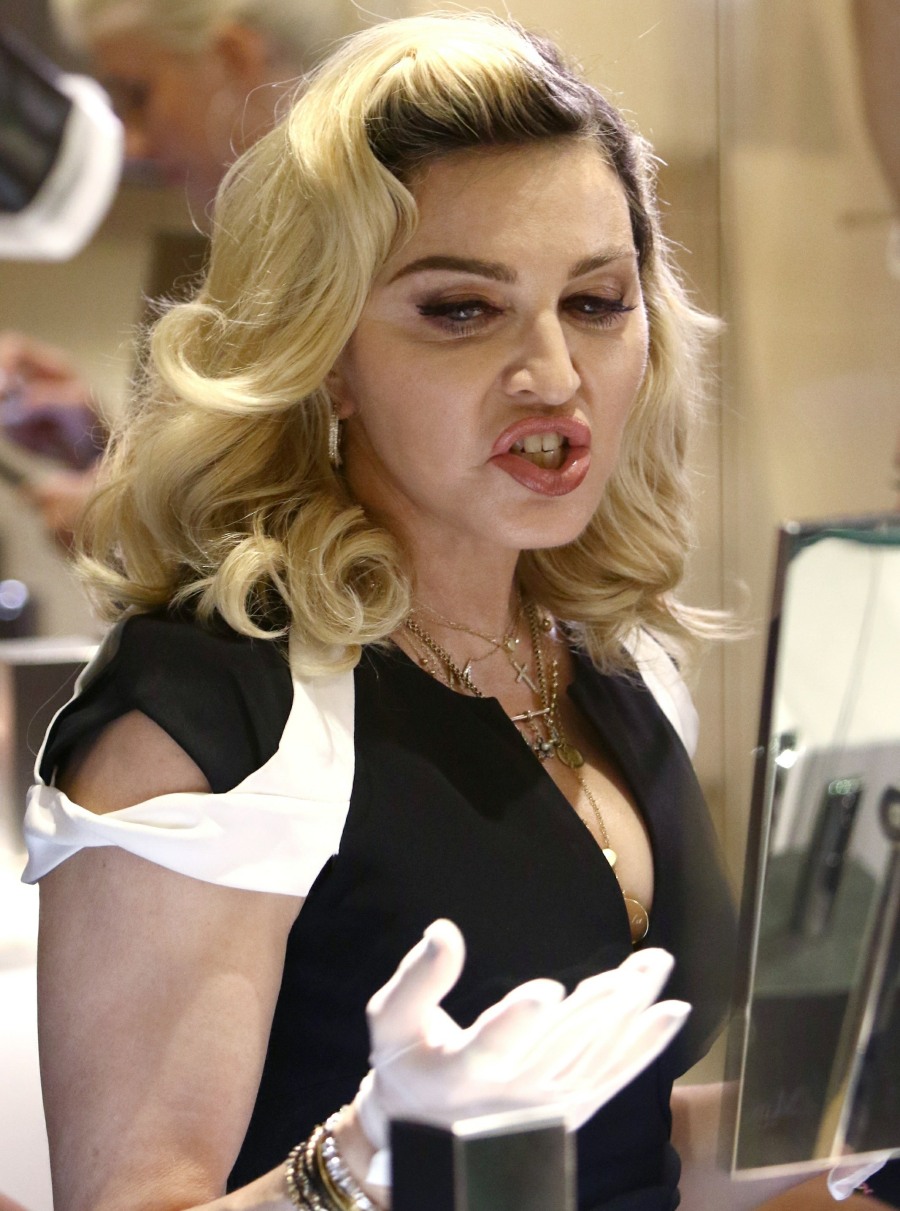 True story: Madonna has launched a new skincare line called MDNA Skin. These are photos from one of the launch events at Barneys in New York. Just know that I feel like a complete bitch as I write this, but OMG HER FACE. I respect Madonna. I respect the work that she's done in this world and I respect her as an artist. I just wish she would respect herself, because this is the face of a woman with a massive amount of insecurity about aging. It's not even about aging though, is it? It's about something else entirely – she's 59 years old and this is how she WANTS to look. So no, I'm not really interested in buying skincare stuff from Madonna. But in case you are into it, here are some highlights from an interview she did with People Mag to promote the line:
Her style evolution: "There were many years where I wasn't interested in having eyebrows. There were many years where I wasn't interested in wearing bows. But my skin was always exposed so even in my sex book, I didn't have a real tan — I had François Nars painting on a tan everywhere."

She always cared about skincare, even when she was broke: "I remember when I lived on the Lower East Side and I really didn't have much cash and there was a salon on 7th street between first and second avenue and there was a girl in the back — and I know this is weird — but she was a heroin addict, and she gave amazing facials and I would go to her and we would somehow do trades. Skin was very important to me, and I always took care of my skin even at a young age."

Why she started this line: "I got really tired and fed up of years and years of performing, being onstage, being filmed, being photographed and always having to grab one product and then another one, and then another one. And as soon as I liked a product it was discontinued. It always happens to me. When I liked a product they stopped making it. So that was really the germ of what started this whole process of why I wanted to create skin care."

You can use the mask on your butt: "I have used the clay mask on my butt. Don't you want soft skin on your butt? I mean don't a lot of people look at your butt? Your butt has an audience. At least one! Maybe you can ask your significant other to remove it for you. What do you think?"
Sure, Madge. I always wonder about these celebrity skincare/beauty lines… do you really think the celebrities use their own lines? I think Rihanna uses Fenty Beauty. I don't think Gwyneth uses her Goop makeup line. I don't think Victoria Beckham uses her skincare line either. And no, I don't believe Madonna uses MDNA Skin. I think she pays people thousands of dollars a month to have craziness injected into her face and onto her skin.