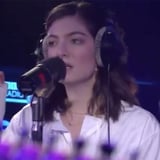 Oh, @Lorde 😍@PhilCollinsFeed's In The Air Tonight sounds beautiful in the Live Lounge #R1LiveLoungeMonth pic.twitter.com/qooUenQ0IR

– BBC Radio 1 (@BBCR1) September 28, 2017
The earth is round, the sky is blue, and everything Lorde touches turns to musical gold. It's a fact, OK? The "Homemade Dynamite" singer (and dancer) stopped by BBC Radio 1's "Live Lounge" on Thursday morning to promote her latest album, Melodrama, where she busted out a cover of Phil Collins's 1981 hit "In the Air Tonight." She gives it that haunting spin that only she can pull off, resulting in a gorgeous reimagining of the classic. She's sure been on a roll with stunning covers lately, huh? Because she's a benevolent musical goddess, she also performed a stripped-down version of her single "Green Light," which you can watch below.
We can't let go of how perfect Green Light sounds in the Live Lounge 💚

As @ClaraAmfo said – we're so glad @Lorde exists! ✨ pic.twitter.com/vxbliqw8EK

– BBC Radio 1 (@BBCR1) September 28, 2017