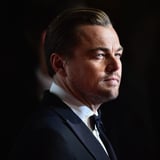 Image Source: Getty / Gareth Cattermole
After a brief hiatus following his Academy Award-winning performance in The Revenant, Leonardo DiCaprio has a lot going on. The 42-year-old actor is currently working on three movies with Martin Scorsese, one of which he is also producing. In addition to The Black Hand, a mafia movie, and Killers of the Flower Moon, a crime thriller, DiCaprio will also be portraying Theodore Roosevelt in a biopic.
According to Deadline, Roosevelt was picked up by Paramount Pictures. DiCaprio is especially interested in playing the former president after having previously tried to make this biopic happen several years ago. Unfortunately it just didn't work out at the time, but now it's back on track.
Though DiCaprio previously portrayed J. Edgar Hoover, he's yet to play a president. As the nation's 26th president at the start of the 20th century, Roosevelt was known for being a rugged outdoorsman with a focus on conservation and the national parks system. Sound familiar? With his passion for the environment and slightly similar build, we can't imagine a more perfect casting.
Image Source: Getty / Hulton Archive