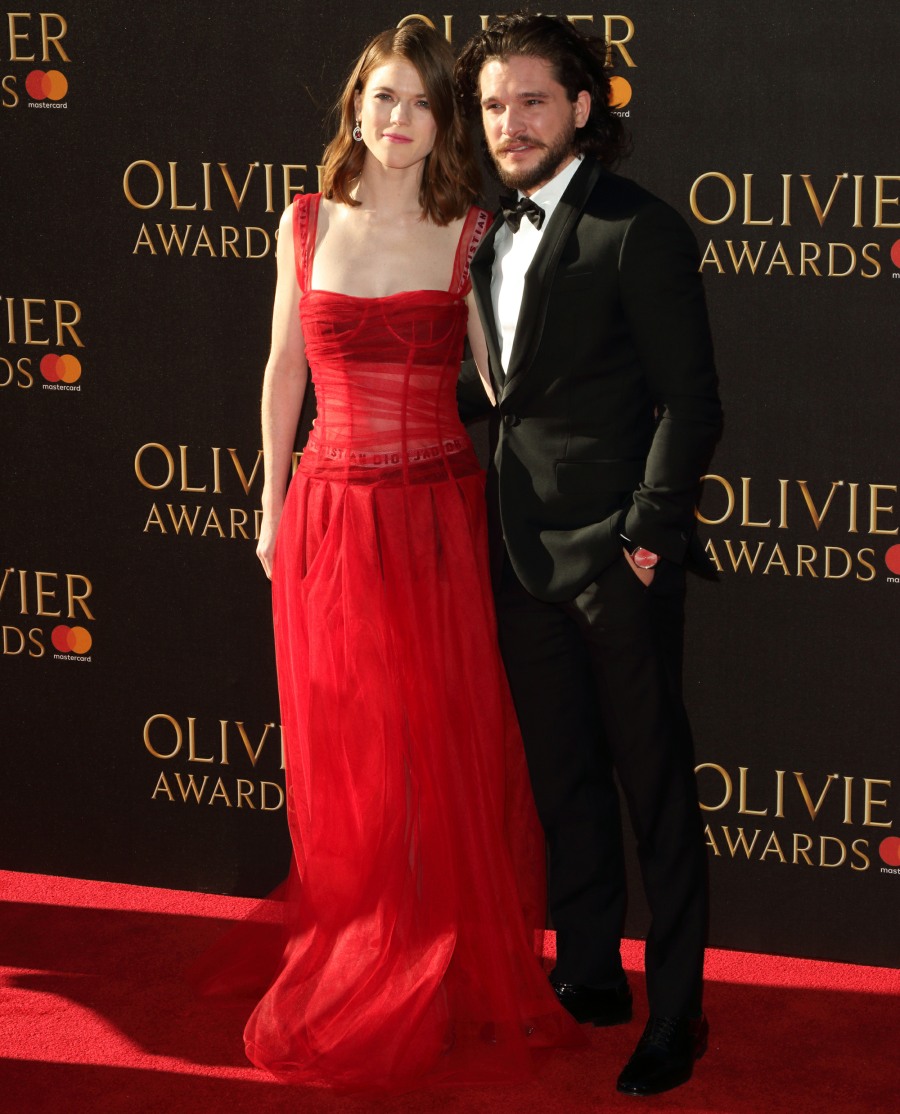 I love that out of Game of Thrones, this is the real-life couple that emerged: Kit Harington and Rose Leslie. He's dark, brooding and tiny. She's ginger, happy and even smaller. He knows nothing. She knows too much. They are perfect together. They started dating during the season of Game of Thrones where they became on-screen love interests, and I get the feeling there was at least one breakup in those years. But they got back together at some point, and they've never been apart. When Kit was promoting GoT earlier this year, he even talked openly about moving in with Rose in London, and whether they were going to buy a place in New York. So… this isn't surprising: they're getting married!
Long-term loves Kit Harington and Rose Leslie are engaged, sources have claimed. The Game Of Thrones actor, 30, has reportedly popped the question to his co-star girlfriend of five years Rose Leslie, also 30. The smitten couple, who shut down engagement speculation over the summer, are rumoured to have told friends and family last week that they're set to wed.

'They're yet to set a date, but told friends and family last week that they've got engaged,' a source told The Sun. 'Kit's known for ages he's wanted to marry Rose but he wanted them to get a house and settle down a bit first.'

The insider claimed Kit felt marriage was the natural next step for the couple after they moved into a £1.75million mansion in East Anglia.

'After moving in together in January he felt it was the right time to take the next step,' they said. MailOnline have contacted reps for Kit and Rose for comment.

'I've moved in with my other best friend Rose, so I'm very happy,' Harington told chat show host James Corden in June. 'It's going well, so she's got all sorts of ideas for the house. I said to her, cause she's moved into my house, 'Look darling, it's important that this is our space. That it feels like our space. That you haven't just moved into mine. Move anything you want around, change anything, chuck anything out."
I'm really happy for them! This news actually made my day. I love them together and you could just tell that Kit knew Rose was "the one," especially in the past few years. They weren't trying to hide their love away and make it all secret-y or whatever – they openly walked red carpets together and supported each other's projects. He seems crazy in love with her. Sigh… props to Rose Leslie. She gets to settle down with Jon Snow in real life. Bless her.
Oh, and the engagement has been officially announced now! They put the announcement in the Times, just like Eddie Redmayne & Hannah, and Benedict Cumberbatch and Sophie Hunter.
It's official! #GameofThrones stars Kit Harington and Rose Leslie's engagement confirmed with an official notice in today's Times newspaper. pic.twitter.com/MSN3dRxj4m

— lizo mzimba (@lizo_mzimba) September 27, 2017