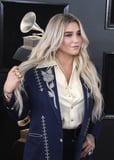 From Kate Hudson's glorious pixie at the 2018 SAG Awards to Katie Holmes's flapper-esque style at the Grammys, it's easy to get short-hair fever during red carpet season. However, there's one look that will quell all those thoughts – and Kesha rocked it at the Grammys.
The nominee for Best Pop Vocal Album and Best Pop Song took to Madison Square Garden, making 2018 look like 1978 with her extralong, wavy blond strands. With her roots and brows providing dark brown contrast, Kesha's sandy blond popped all the more.
She paired her hair with a soft, matte complexion and subtle, rosy pink lipstick to complete her Stevie Nicks-esque look. Yes, pixie cuts are great and all, but if you need any reason not to make the cut, step right up and swoon over the "Praying" singer's down-to-there strands.