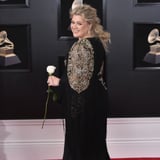 Kelly Clarkson is a pretty relatable mom: she considers wine a parenting necessity (amen!), knows sleepovers don't actually mean sleeping, and is as terrified as the rest of us about potential dangers to her kids. And at the 2018 Grammy Awards, Kelly pulled another oh-so-relatable mom move: fangirling over her teenage stepdaughter's favorite singer, Khalid, and namedropping 16-year-old Savannah to him.
As Kelly was heading up to her interview with E!'s Live From the Red Carpet host Ryan Seacrest, she passed by the "best new artist nominee on his way down from the interview platform. "I'm a huge fan," she gushed to Khalid. "My 16-year-old daughter is flipping out right now. Literally, she introduced me to your music and I'm addicted! It's so good."
Kelly has brought her teenage stepdaughter (with husband Brandon Blackstock) to past award shows, but since Savannah wasn't her plus-one to the Grammys this time around, the doting mom had to pass along her adoration. Any mom who has fangirled over Justin Bieber or Harry Styles along with their teens will get it! Watch the whole interaction (and another of Kelly's fangirl moments) above.