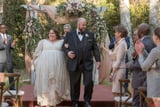 Warning: This Is Us season two finale spoilers ahead.
One of the biggest questions leading up to the season two finale of This Is Us was whether or not Toby and Kate would actually get married. The couple did follow through with their wedding, and I'm so glad she decided not to call it off – not only because she and Toby make a great pair, but because we got to see her in the most beautiful wedding dress!
In the emotional ceremony, Kate wears a floor-length, flowy gown that has a sexy v-neck, sheer long sleeves, delicate lace detailing, and subtle sparkles studded throughout. It's basically the epitome of a Pinterest-board-worthy dress – the kind you might have pinned before. With her hair swept back and her small pearl earrings that complement the ivory color of the dress, the Pearson sister (now Mrs. Damon) looks more gorgeous than ever. While we're still reeling over the finale's twists – and seeing Jack as an old man – we'll be thinking about Kate's stunning dress for weeks to come. Relive this pivotal moment, and get a closer look at Kate's showstopping dress ahead.