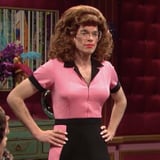 Things got a little intense at brunch. #MulaneyOnSNL @mulaney pic.twitter.com/K1uMC0zGuD

– Saturday Night Live – SNL (@nbcsnl) April 15, 2018
Yes, John Mulaney is known for being dynamic. But he reached peak levels of hilarity when he played a drag brunch waitress on Saturday Night Live this week. Not only did he look great, but he nailed the art of throwing shade. Watch the video above, then scroll through to see some of the best responses from Twitter.
John Mulaney in drag is absolutely and 100% my brand

– Sarah Forgey (@sarah_forgey) April 15, 2018
I didn't know I needed to see @mulaney in drag until now #trust

– Ye Olde Lilye Millere (@TheFabFoodGirl) April 15, 2018
So I've been straight my entire life but then I saw John Mulaney in drag & now I'm starting to think I might be a homosexual

– Ryan Shattuck (@ryanmer) April 15, 2018
@mulaney in drag was something I didn't realize I needed #MulaneyOnSNL @nbcsnl

– Carly Tefft (@carloochie) April 15, 2018
JOHN MULANEY IN DRAG ISNT SOMETHING I KNEW I NEEDED UNTIL I GOT IT #MulaneyonSNL

– ♡ ✽ Mary / #MulaneyOnSNL ✽ ♡ (@MulaneySNL) April 15, 2018
I'm living for @mulaney in drag on #SNL right now pic.twitter.com/rauQGeWxcT

– Stephanie Garrisi (@StephGarrisi) April 15, 2018
@mulaney IN DRAG IS ONE OF THE BEST THINGS IVE EVER SEEN @nbcsnl

– stoop crone 🧙🏼‍♀️ (@pamenope) April 15, 2018
#mood for the rest of April: John Mulaney in drag. #SNL

– Robin Goldberg (@robinsgoldberg) April 15, 2018