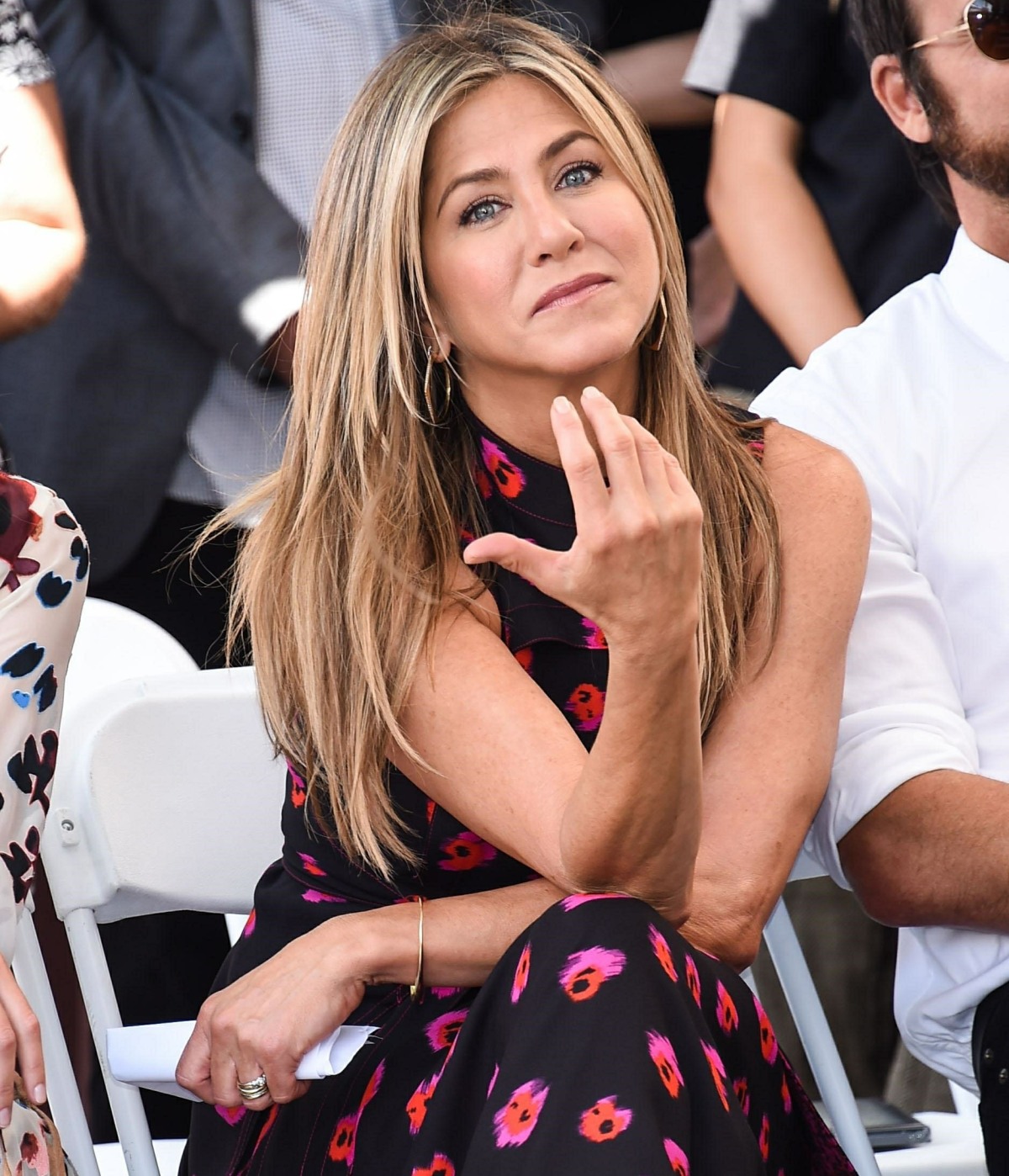 I never hear much about how Jennifer Aniston's many perfumes are selling. Aniston's 40s have been dominated by her side-projects, her endorsement deals and business projects, like her collaboration with Living Proof (haircare), her ad deal with Aveeno (skincare), and her continuing work with SmartWater (she's a shareholder). From what I've seen, those are her successful collaborations. But unlike J.Lo and Britney Spears, you never really hear much about Aniston's perfume side business. J.Lo and Britney move millions of units whenever they introduce a new perfume – both women have the Midas Touch when it comes to scents. But Aniston is on her fifth perfume and I have no idea if she's moving units, or if she's just basically doing this for fun. Who knows?
Anyway, Aniston has been promoting her fifth fragrance, Chapter One. She's now working in collaboration with Kohl's, a deal which probably looks a lot like Jennifer Lopez's Kohl's deal. Aniston is doing a lifestyle brand, and "Chapter One" is not just the name of the perfume, but also of the brand. And there's a "home mist" of the same name too. Long story short, Aniston is promoting all of this, and she gave an interview to People Mag. And now she's offended taxi drivers.
Since 2011, Jennifer Aniston has balanced her acting career with another passion project: creating perfume. With five scents already under her belt, this month she introduces a new lifestyle brand at Kohl's, Chapter One, which includes a new fragrance by the same name, as well as her very first body and home mist. And with the new venture comes a departure from her previous process: This time, Aniston didn't enlist husband Justin Theroux for any sniff tests.

"He's not involved in this whatsoever. This is not his department," explains Aniston, whose new scent combines a bouquet of floral notes. "It's a feminine mix of florals, citrus and woodsy notes that is captivating and chic but still approachable," says Aniston, who also says that the bottle's "teardrop-shape was inspired by my younger years seeing my mother's perfume bottles on her vanity."

With the expansion of the star's fragrance empire, we wondered if she would ever use her expertise to create a men's scent, but Aniston assures us she's got zero interest in cologne.

"I'm not big on it," she shares. "I've probably got PTSD from cab rides in New York City that ended in pure suffocation." Aniston's had similarly bad scent experiences in other enclosed spaces, like elevators. "No one wants to go into an elevator and then walk out smelling like someone else! That's something I have a pet peeve about: Someone giving you a hug and they're loaded with some really horrible scent and you're just like, 'Oh now I smell like that person for the rest of the day!' I hate that," the actress told us recently.
A perfectly innocent remark from someone who is probably a little bit scent-sensitive, that New York cabbies sometimes wear too much bad cologne, or passengers leave behind unwelcome cologne scents. Well, please enjoy this bitchy article from Page Six:
Jennifer Aniston needs to put on the brakes. When People magazine asked the "Friends" star if she will add cologne to her line of fragrances, Aniston sniffed, "I'm not big on it. I've probably got [post-traumatic stress disorder] from cab rides in New York City that ended in pure suffocation." If you ask us, confirmed Angeleno ­Aniston — who last lived in New York in 2011 for exactly the length of time it took her to figure out that husband Justin Theroux's West Village walk-up didn't have valet — should take her snooty views about our cabbies back to Bel Air with her.

And while we're quite sure that Aniston's yoga mat doesn't stink, given the choice between the scent of a yellow cab or her steaming superiority, we know which we'd choose. (When, by the way, was the last time she rode in one of these supposed taxis? We only ever recall seeing her around town blocking traffic in a chauffeured Escalade).

On Friday, New York's taxi drivers responded to the Hollywood star, with Allan Fromberg of the Taxi and Limousine Commission telling Page Six, "Hundreds of thousands of people get in and out of NYC's yellow cabs each day. Some leave behind umbrellas and cellphones, and some leave a bit too much cologne." Fromberg added, "My advice to Ms. Aniston would be for her to create a yellow taxi-themed cologne that is as subtle and sophisticated as she is, and call it 'Common Scents'!"
Was any of this really necessary? Of course not. Aniston has the right to say that in her opinion, New York cabs are where bad cologne goes to die, and the cabbies have the right to call her out. What bugs me is that it's ridiculously easy for men to smell good, in general: just bathe regularly and invest in a low-key and moderately priced aftershave or cologne. Most men smell amazing when they're freshly showered and shaved.