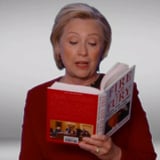 .@JohnLegend, @Cher, Hillary Clinton & more read excerpts from @MichaelWolffNYC's 'Fire and Fury' at the #GRAMMYs https://t.co/pp937Qnlwx pic.twitter.com/7qtcoGjvz6

– Hollywood Reporter (@THR) January 29, 2018
One moment we didn't see coming at the Grammys on Sunday was James Corden hosting auditions to see who would read the audio version of Michael Wolff's now infamous book Fire and Fury: Inside the Trump White House at the 2018 Grammys. We got a glimpse of John Legend, Cher, Snoop Dogg, Cardi B, and even DJ Khaled – but the one that took us completely by surprise was the winner: Hillary Clinton! You could practically hear a pin drop the moment Hillary's face showed up on the screen to read an excerpt from the book. Watch the clip above to see the moment that had everyone doing a double take.