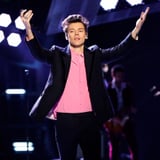 .@Harry_Styles knows how to start a show! 🔥 #VSFashionShow pic.twitter.com/nV8Fj95lp7

– Channel 9 (@Channel9) November 29, 2017
If you want someone to kick off your fashion show with a bang, trust no one but Harry Styles. The former One Direction singer was one of the performers at the Victoria's Secret Fashion Show this year, where he slayed the runway just as expertly as the models. He started the annual event with his latest single, "Kiwi" (above), and later performed his very-fitting hit, "Only Angel." All eyes might have initially been on the diverse array of models strutting their wings, but Styles's electric performances totally stole the show. Just ask Twitter!
Didn't need the #VSFashionShow to show me that @Harry_Styles is an angel and a model, but damn. pic.twitter.com/hb5xqRHEtS

– Alex Goldschmidt (@alexandergold) November 29, 2017
harry is out here acting like it's harry styles live in shanghai and not the victoria's secret fashion show it's great

– Tayla (@sawthisangeI) November 29, 2017
The phrase "nobody is perfect" does not apply to Harry Styles

– Dan Zolot (@danzolot) November 29, 2017
Wish they'd stop cutting away from the Harry Styles concert

– Kmarko (@Kmarkobarstool) November 29, 2017
Harry Styles was the best part of the #VSFashionShow don't @ me pic.twitter.com/WBfMcBw6xU

– Katy (@ksolt27) November 29, 2017
I'd be more nervous by the fact that I'm walking next to Harry Styles not by the fact I'm in underwear in front of millions #VSFashionShow

– Julia (@JuliaSokolowski) November 29, 2017