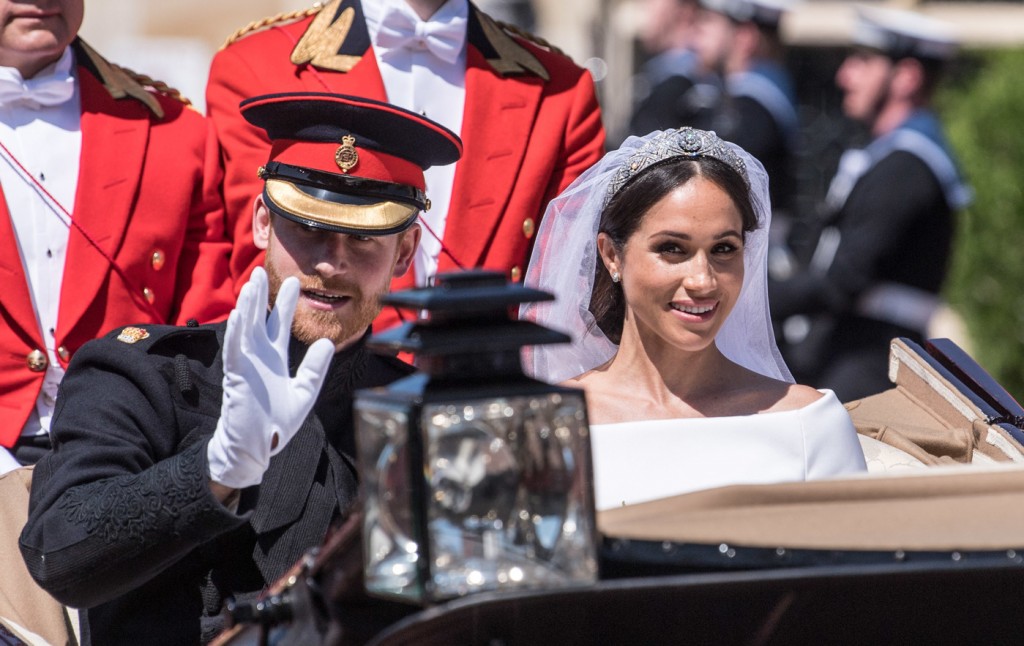 Meghan Markle's makeup artist has spoken to People magazine about the mood as they prepped for the Royal Wedding. We previously heard from her hairdresser, Serge Normant, that she was "easy" to work with and relaxed while they were getting Meghan to get married in front of the world. Her makeup artist, Daniel Martin, said almost the same thing, that the mood was subdued and that no one really seemed nervous. He also added some cool details that I'm interested in, like the number of people who were around when she got ready and the music they listened to – 50s music on Spotify!
Martin says there were just five people around while prepping Meghan for her walk down the aisle: the bride, himself, hair stylist Serge Normant, dress designer Clare Waight Keller and Meghan's mom Doria Ragland, who Martin said was "in good spirits." The atmosphere was very relaxed, partly thanks to Meghan playing "1950s, chilled music" via Spotify.

"She didn't seem nervous. She was very cool, she was regular Meghan," the makeup artist shares. "I think we were nervous, but we didn't want to make her nervous so it was very chilled. Of course, brides have nerves, but if we didn't put so much expectation on it, it wouldn't have made her nervous. It was very even, very easy."

Martin added that the bride stayed off her phone as they caught up by talking about mutual friends.

Despite all their beauty work, putting on the wedding dress really made the moment feel real.

"It was all so easy. It didn't hit us that she was getting married until she got the dress on," Martin said.

He added, "It was so beautiful and so architectural, and when she put it on it was like a glove. It was so easy. The spectacle of the veil and the crown and it was, 'Oh my goodness, this is really happening.'"
Martin also said that he started crying when he did touch ups on Meghan after the wedding and that the day "was so moving and so perfect and couldn't have been better." That kind of gets to me!
I found an article at Elle that supposedly lists the "exact" products that Martin used on Meghan. However that's a misinterpretation of this article on Harper's Bazaar (which Elle links as their source) which clearly says they're just guessing at products he might have used from Honor Beauty and Dior because Martin works with those two companies. People says that he's "the creative consultant for Honest Beauty" and a "Dior Beauty brand ambassador," so this makes sense. It's not like Martin is out there shilling for his sponsorships by listing Meghan's products and I appreciate that.
Also Meghan's wedding hairdresser previously worked with Amal Clooney and in this interview he says he met Meghan "through friends." The interesting thing is that Meghan has used two different hairdressers who have worked with Amal. We're still wondering how Amal and George met Meghan and Harry and scored an invite. Kaiser floated a very plausible theory that it could be connected to George's tequila brand, Casamigos, which was served at the reception. Was Amal Meghan's go-to person for hair recommendations on her big day? Amal does have great hair.
Some of you thought Meghan's hair was "messy" but it's aspirational to a lot of women who want that soft, slightly undone look. Here are some quotes from Normant on Meghan's look and ABC has a tutorial on how to achieve it. He said "It just has to be messy in a controlled way. You just have to be making sure that it doesn't become a whole mess after a few hours." You could see that's what they were going for and I thought they accomplished that.
Here are some Instagram posts from Meghan's hairdresser and makeup artist. They're so classy and grateful and haven't promoted anything on IG or in interviews.
photos credit: Avalon.red, PacificCoastNews and also via Twitter/Royal Family and Instagram