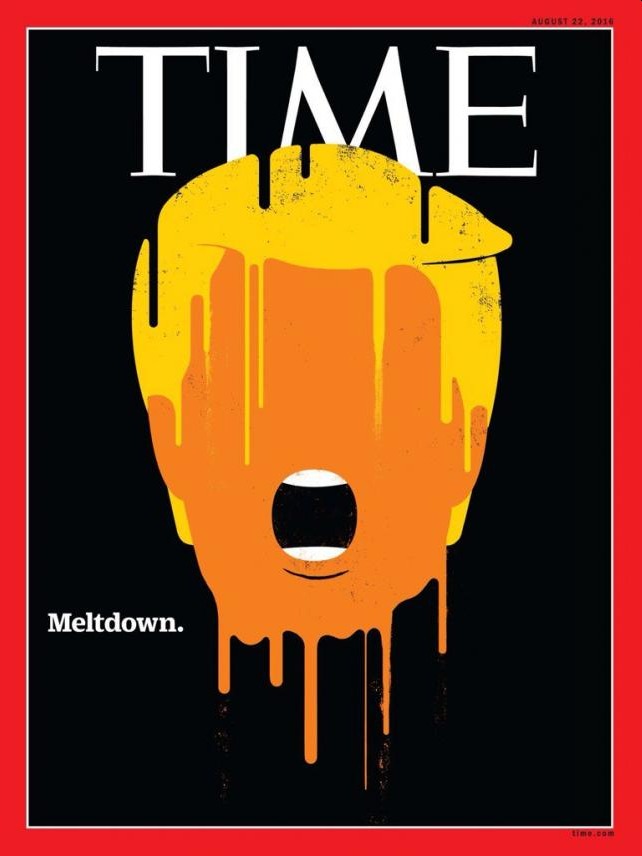 Donald Trump has long been obsessed with Time Magazine, and getting on the cover of Time. Before he even ran for president (such a simpler time), Trump had fake Time covers made, featuring flattering photos of himself, and he had those covers framed and hung all over his Trump properties. He was named Time's Person of the Year last year, and they framed him along with the "TIME" banner so it looked like he had devil horns. I'm not sure if Time has ever done consecutive years with the same Person of the Year, but it seems like Trump thought he was in the running for it, like it's an award. Adolf Hitler was POTY. It's not an AWARD. But this is what he tweeted:
Time Magazine called to say that I was PROBABLY going to be named "Man (Person) of the Year," like last year, but I would have to agree to an interview and a major photo shoot. I said probably is no good and took a pass. Thanks anyway!

— Donald J. Trump (@realDonaldTrump) November 24, 2017
"I said probably is no good and took a pass." How small. How petty. How fictitious.
The President is incorrect about how we choose Person of the Year. TIME does not comment on our choice until publication, which is December 6.

— TIME (@TIME) November 25, 2017
E! News says this year's list of possible POTY candidates include: Ariana Grande, Colin Kaepernick, Emma Stone, Jimmy Kimmel, Mark Zuckerberg, Patty Jenkins, Rose McGowan, Serena Williams and Taylor Swift. I kind of hope it's Kaepernick or Serena.
Meanwhile, people were trolling Trump. My favorite is Andy Murray's tweet!!
I don't know who'll be Time's 2017 Person of the Year, but I must say it would be nice if Robert Mueller turns out to be Time's 2018 Person of the Year.

— Bill Kristol (@BillKristol) November 25, 2017
Bbc just called to say I was PROBABLY going to be named sports personality of the year but I would have to agree to an interview and a major photo shoot. I said probably is no good and took a pass. Thanks anyway!

— Andy Murray (@andy_murray) November 24, 2017
I gotta say I think @HillaryClinton being @Time's Person of the Year may drive Trump's insanity to a level no one could ever even fathom. They should do it.

— Scott Dworkin (@funder) November 25, 2017
Tiger Beat called and said I was probably going to be Boybander of the year, but it was going to take a long photo shoot and interview. Unfortunately, i have a long awaited appointment to frost my tips on the day of the interview so i turned it down! No thanks Tiger Beat!!!

— Lance Bass (@LanceBass) November 25, 2017
Hollywood called to say that The Big Sick was PROBABLY going to be named "Movie (Film) of the Century," & make a billion dollars at the box office (domestic) & win every Oscar, even ones from years past. I said probably is no good and took a pass. Thanks anyway!

— Kumail Nanjiani (@kumailn) November 25, 2017