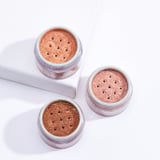 Friendly PSA: ColourPop is killing the beauty game right now. A quick recap for those who may have missed all the glorious products the California brand has given us this Fall: first, there was the quirky-cute My Little Pony Collection, then came a collaboration with Sephora, followed by a liquid highlighter that's made of actual frickin' crystals, not to mention glitter eye shadow and an 18-piece holiday collection. Whew. Girls and boys, let's take a moment to catch our breath before we introduce you to more newness from the brand that apparently never sleeps. (You're putting our hustle to shame, ColourPop!)
For a mere $ 5 (and then a still humble $ 7 once the site's sale is over), you can get yourself ColourPop's inaugural loose highlighter. This powder was made with pearls, twinkling particles, and 3D glitter so your face truly will be popping. Even though this powder is soft, you only need to use a little bit to achieve a somewhat-blinding shine – which means that these pots will last you well through party season.
There are three shades available (swatched above). First there's Gnomie, a soft champagne pink. Then there's Aura Voir, an orange-tinted bronze that has shades of rose gold. Dew Drop is perhaps the most festive hue, as it gives a golden glow.
Like your crazy friend who always comes to brunch with a new, insane story, sometimes it's hard to keep up with ColourPop's releases. But jeez, is it fun (and pretty). If you want to make this highlighter part of your world, head on over to ColourPop's website and those dreams can come true.