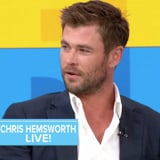 Who do @chrishemsworth's kids want to dress up as for #Halloween? Wonder Woman!#ThorRagnarok pic.twitter.com/pVamPgdY8w

– Good Morning America (@GMA) October 30, 2017
Chris Hemsworth stopped by Good Morning America on Monday to promote Thor: Ragnarok, which hits theaters on Nov. 3. But seeing as we're in our final days of October, the subject quickly turned to Halloween. Naturally, it would be safe to assume Chris's three adorable kids – India Rose, 5, and 3-year-old twin boys Tristan and Sasha – would be dying to channel their superhero dad for the holiday, right? Wrong.
In the interview, Chris revealed that all three of them wanted to be a different hero: Wonder Woman! Chris shared the funny interaction: "I said, 'That's awesome, but what about Thor?' At the same time they went, 'No.' I went, 'Who's stronger?' They said, 'Wonder Woman.' I'm happy to play second to Wonder Woman." Both Chris and his gorgeous wife, Elsa Pataky, have yet to share any Halloween updates on their official Instagram handles, but trust we'll be reloading their pages over and over in hopes of a peek at three tiny Amazonian warriors.