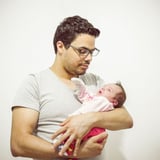 Although giving birth to a new bundle of joy usually calls for some lighthearted banter over which parent the newborn most closely resembles, according to a new study published in Journal of Health Economics, there may be some additional benefits for children born to single mothers who look like their dads. Researchers at Binghamton University in New York found that fathers are more likely to spend more time with their newborns if they look like them, and that attention from dads, specifically, can have long-term benefits.
Solomon Polachek, a Distinguished Research Professor of Economics at Binghamton University, explained that more one-on-one time with dad has a positive result on a baby's well-being. "Fathers are important in raising a child, and it manifests itself in the health of the child," he said, adding that, "Those fathers that perceive the baby's resemblance to them are more certain the baby is theirs, and thus spend more time with the baby."
Researchers analyzed 715 families in which babies live with only their moms and discovered that infants who looked like their dads were healthier at their one-year checkup. The study's authors also found that fathers who thought that their child resembled them spent an average of 2.5 days per month with their little ones, compared to dads who didn't think their babies looked like them.
And according to Dr. Polachek, there's a good reason for this correlation:
"We find a child's health indicators improve when the child looks like the father . . . The main explanation is that frequent father visits allow for greater parental time for caregiving and supervision and for information gathering about child health and economic needs. It's been said that 'it takes a village' but my coauthor, Marlon Tracey, and I find that having an involved father certainly helps."
So what does this mean for new parents? Moms should have their children spend as much time with their fathers as possible during infancy and beyond. Getting attention from their fathers can pay off in spades down the road – and not just in terms of health.
Dr. Polachek agrees: "Greater efforts could be made to encourage these fathers to frequently engage their children through parenting classes, health education, and job training to enhance earnings."