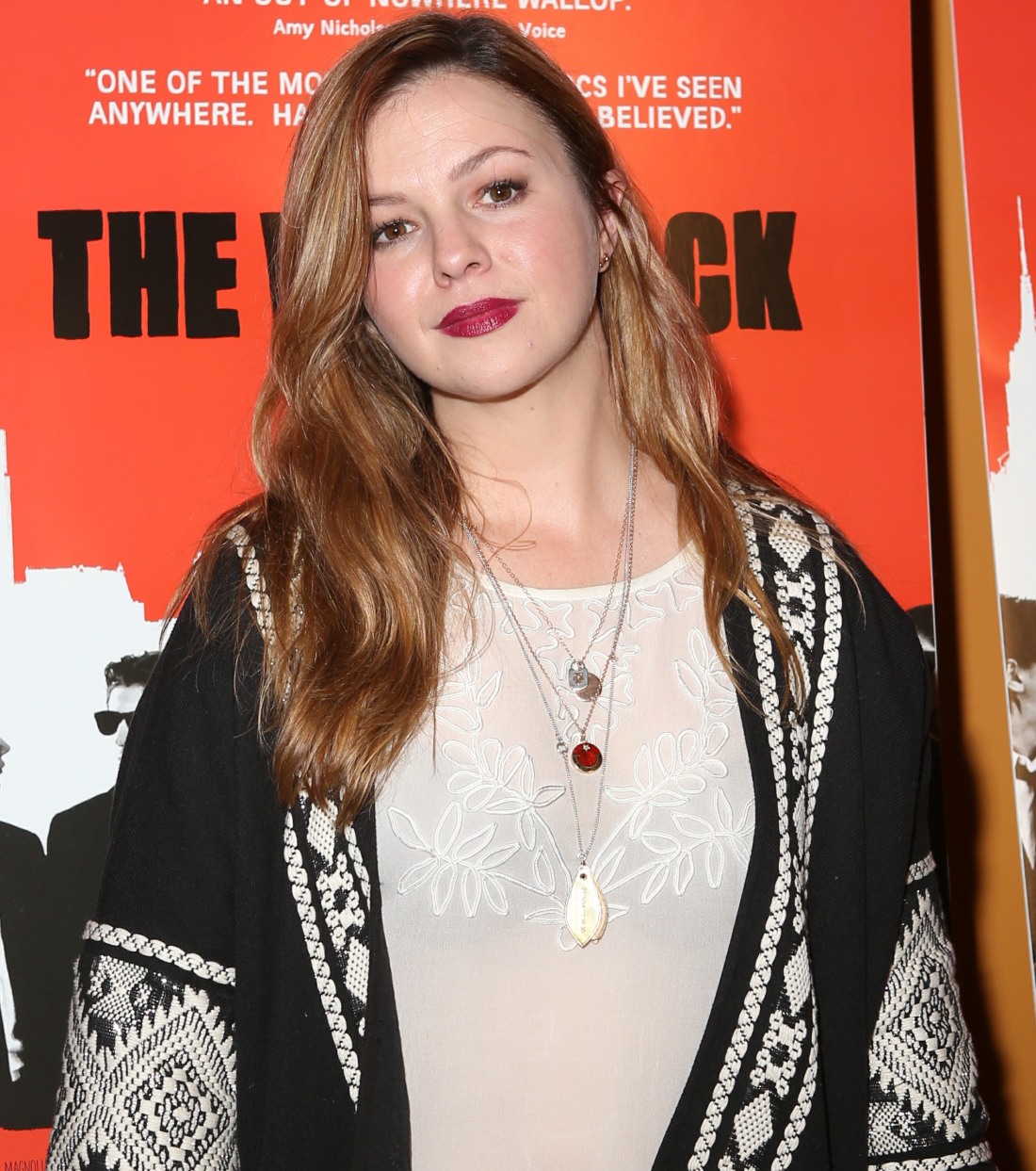 Last week, ancient pervert James Woods decided to get on his high horse and moralize about the romance at the center of Armie Hammer's latest film, Call Me By Your Name. The film features a romance between a 20-something dude and a 17-year-old guy. The film is set in Italy, where that kind of iffy statutory situation would not be illegal (or even frowned upon, one would assume). Of course Woods was ridiculous to call out the age difference, and Armie Hammer slapped back at him, pointing out that James Woods dated teenagers when he was 60-something. Amber Tamblyn backed up Armie's facts with a story of her own: James Woods hit on her when she was 16 years old, and he invited her to go to Las Vegas. She ended up writing an essay in Teen Vogue about all of it, and how Woods called her a liar and how he needs to come to Jesus. Now she's written an op-ed for the New York Times called "I'm Done with Not Being Believed."
This is less about what just happened with Woods and more about Woods Culture and how we can end it. https://t.co/oc3IRbVk8e

— Amber Tamblyn (@ambertamblyn) September 16, 2017
Actress, writer, director @ambertamblyn with an Op-Ed in response to being called a liar by actor James Woods. Read: https://t.co/hZiOTUL1K1

— NYT Opinion (@nytopinion) September 16, 2017
Some highlights from the NYT piece:
Tamblyn began the op-ed describing an incident on a television set when she was 21. A crew member made her feel unsafe by showing up at her apartment after work and "staring daggers" at her on set. She reported this to a producer, who claimed "there are two sides to every story."

"For women in America who come forward with stories of harassment, abuse and sexual assault, there are not two sides to every story, however noble that principle might seem," Tamblyn wrote. "Women do not get to have a side. They get to have an interrogation. Too often, they are questioned mercilessly about whether their side is legitimate. Especially if that side happens to accuse a man of stature, then that woman has to consider the scrutiny and repercussions she'll be subjected to by sharing her side."

In recent days, Tamblyn was called a liar by Woods, who started a recent situation on social media. The actor criticized Armie Hammer's film Call Me By Your Name for depicting a relationship between a 24- and 17-year-old. Hammer dropped the hammer when referenced how Woods began dating a 20-year-old woman when he was 66.

"In an instant, I was reminded of a memory from when I was 16," Tamblyn wrote of this situation. "Mr. Woods attempted to pick me and a friend up when we were at Mel's diner in Hollywood, seeing if we wanted to go to Las Vegas with him that very night. I informed him of my age, to which he said, 'Even better.' I told this story publicly as a way to back up the claim that Mr. Woods was, indeed, a hypocrite. Mr. Woods called my account a lie."

She added, "Mr. Woods' accusation that I was lying sent me back to that day in that producer's office, and back to all the days I've spent in the offices of men; of feeling unsure, uneasy, questioned and disbelieved, no matter the conversation."
It's weird that I had to write "I believe Amber Tamblyn" in the initial story about James Woods, isn't it? I did that because I've been blogging for long enough to know that on any given forum where a woman accuses a man of anything, her motives, her story, her memories, her clothing, her alcohol consumption, her location, her words are going to be questioned by some or many people. It's a good rule of thumb to just have a baseline: when a woman – famous or unfamous – comes forward with a story of sexual harassment, assault, rape, violence, whatever, just believe her. Take a moment and believe her before you do anything else. So, yes, I believe Amber Tamblyn. We all need to believe her, and we all need to work on believing other women who come forward.