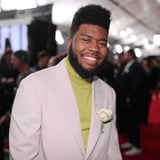 On Sunday, the biggest names in music celebrated the 60th Annual Grammy Awards at Madison Square Garden, and there were a lot of amazing moments throughout the night. While we were in awe of numerous performances and looks on the red carpet, it was newcomer Khalid that stood out to us and left us wanting to know more about the singer.
While some of you might already know a lot about Khalid, we've discovered that there is more to the 19-year-old singer than you may think. In addition to being a mega star before turning 20 years old, Khalid has led a very interesting life thus far when it comes to music, and in his personal life.
He's an army brat. Growing up, Khalid (whose full name is Khalid Donnel Robinson) was the son of a military mom. His mom only recently retired as a sergeant first class in the U.S. Army. At a young age he recalls feeling unsettled because as "a military child, where you're constantly moving, and you don't really have any form of stability."
He lived overseas. As an army brat, Khalid has lived somewhat of a nomadic lifestyle. In addition to living in Georgia, Kentucky, New York, and El Paso, Texas, over the years, the "Location" singer spent a decent amount of time in Germany.
Music runs in the family. Following in his mom's footsteps – she performed with the U.S. Army band and chorus – Khalid grew up being musical. In fact he performed in musicals at school such as Hello, Dolly, where he played Cornelius, and Hairspray, where he played Seaweed.